North East pigeon racers say post-Brexit rules 'devastating'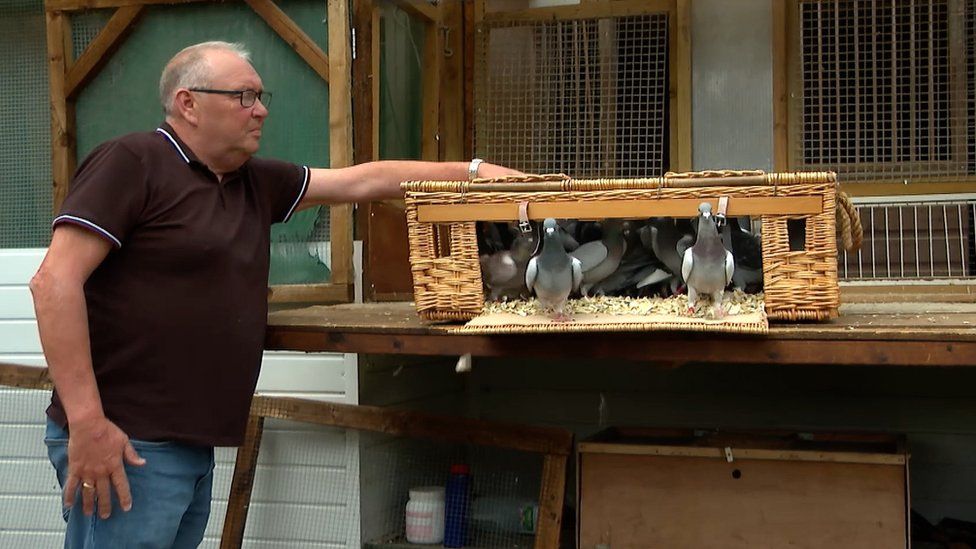 Pigeon fanciers in the North East say post-Brexit red tape is having a "devastating effect" on the sport.
Pigeon owner Alan Todd, from Gateshead, says for the "normal working man" the cost impact is "unworkable".
Defra says it will "continue to work to support the racing pigeon community as they adapt to these changes".
Before Brexit enthusiasts could release their birds in France, but Britain is now classed as a third country.
The certificate has to be signed by an approved vet after they have completed things like an examination of the birds and a check on transportation conditions.
It added that the level of participation after missing a whole season last year, was "very, very small".
Mr Todd, a member of Winlaton Homing Society said: "We're trying to get our head round why these new rules have come in when we've flown in France as long as I can remember.
"It's a massive [threat], that's not an understatement, it's massive.
"I think if this is allowed to continue on at the level it's at now I think it could be devastating effects for the sport."
Mr Todd said he thought the sport was being "victimised" with the level of EU requirements they have to meet.
Ian Evans, chief executive of The Royal Pigeon Racing Association, said needing a vet at each race entry point could mean up to 30-40 locations in the North East.
Pigeon owner Rob Shields, said: "It's really sad.
"We went through a lot with Covid, the pandemic, and coming to these pigeons is mentally stabilising people. We just love our pigeons.
"This is our life. They keep us sane."
Defra said: "Following our interventions, the EU Commission's amended export health certificate has allowed cross channel pigeon racing to resume. The need for a certificate signed by an Official Vet is an EU requirement."
Related Internet Links
The BBC is not responsible for the content of external sites.