Drivers fined as Durham car park camera 'misses them leaving'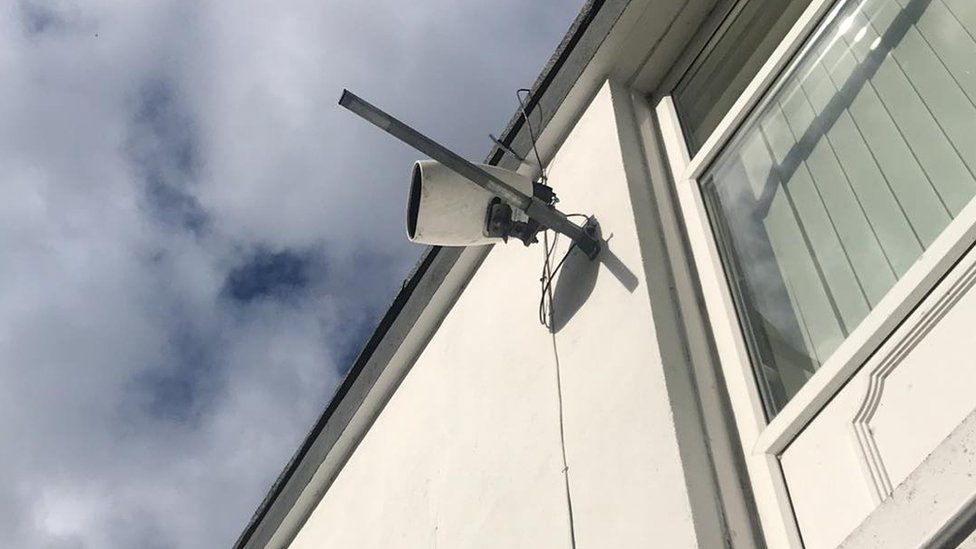 Drivers charged for parking too long in a car park say they left on time but the monitoring camera missed it.
A limit of two hours' free parking was introduced at Cheveley Park Shopping Centre in Belmont, Durham, in January.
Resident Linda Parkin said, since then, hundreds of drivers had been charged £60 because the camera thinks "the car was there and it definitely wasn't".
Smart Parking said the system it managed "strictly follows British Parking Association (BPA) guidelines".
"Hundreds of people use the car park every day without any issue," a spokesperson said.
Drivers say the camera misses departures when another car leaving at the same time blocks its view of the registration plate.
Mrs Parkin said her husband had received three letters claiming he had exceeded the limit by between 12 minutes and three hours 25 minutes.
But he knew they were wrong because he visited three times every day for the same specific tasks.
"He's never there any more than 15 minutes but the camera picked him up going into the car park but not leaving," she said.
"He couldn't possibly have been there" between his first visit to buy a newspaper and his second visit at lunchtime because, at that time every day, they walk their dog in a park four miles away, she said.
Mrs Parkin said many older drivers had paid the penalty, which increases to £100 if not paid within 14 days, because they "don't want the hassle of arguing with the parking company" or were not able to fill in the appeal form online.
Her husband has appealed against his tickets and the first and last had been cancelled. The Parkins do not know why the second has not.
"I'm very, very annoyed about it," she said.
Smart Parking said its appeals process was BPA-audited and it encouraged drivers to "contact us if they feel there are mitigating circumstances".
Another driver, Sarah Anderson, received a letter from the company saying she had parked for six hours, but the pictures it included as evidence of her arrival and departure were of two different cars.
"I appealed and it was overturned but only as I spotted their mistake," she said.
Parish councillor Kimberley Noble said she received a ticket after going in the morning to buy milk and returning in the afternoon for bread.
"It said we parked there for seven hours," she said.
"A lot of elderly people rely on their cars to get to the shops - some are that petrified of a ticket that they are now using the bigger shops rather than our local shops."
The centre's landlord, LCP, said it had advised motorists receiving incorrect fines to contact Smart Parking, whom it had asked to investigate each parking charge notice (PCN) reported.
The two-hour limit was intended to ensure parking availability but was being reviewed, a spokesperson said.
PCNs issued by private parking companies are an invoice and not a fine like a penalty charge notice - also shortened to PCN - which is legally enforceable by the police or local authorities.
As a civil claim they can be passed to debt recovery agents if not paid but agents have no legal enforcement powers unless the parking company takes the matter to court and wins.
Lynn Douglas, who overran the time limit by 16 minutes while working at one of the businesses, is now receiving demands for £170 from debt collection agents.
She said she had "lost track" of the number of letters and was now "getting threatened with court", she said.
The owner of the business, who did not want to be named, said her takings had dropped by about 40% because "customers are frightened to come" and she was worried some shops might be forced to close.
"The local community are boycotting the car park," she said.
The landlord introduced restrictions to stop "people using it as a park and ride but they've got no evidence to say that was ever happening - it never happened", she added.
Some businesses are able to log exemptions if their customers have to stay longer than the permitted time period, but proof was required for appeals and collecting this was time consuming, she said.
One elderly shopper had paid five charges "because he doesn't know what else to do and he's so frightened" and another paid the charge after being threatened with court action, she said.
"She was so frightened and intimidated that she felt she had no choice but to pay," she said.
Related Internet Links
The BBC is not responsible for the content of external sites.