Yes drummer Alan White dies aged 72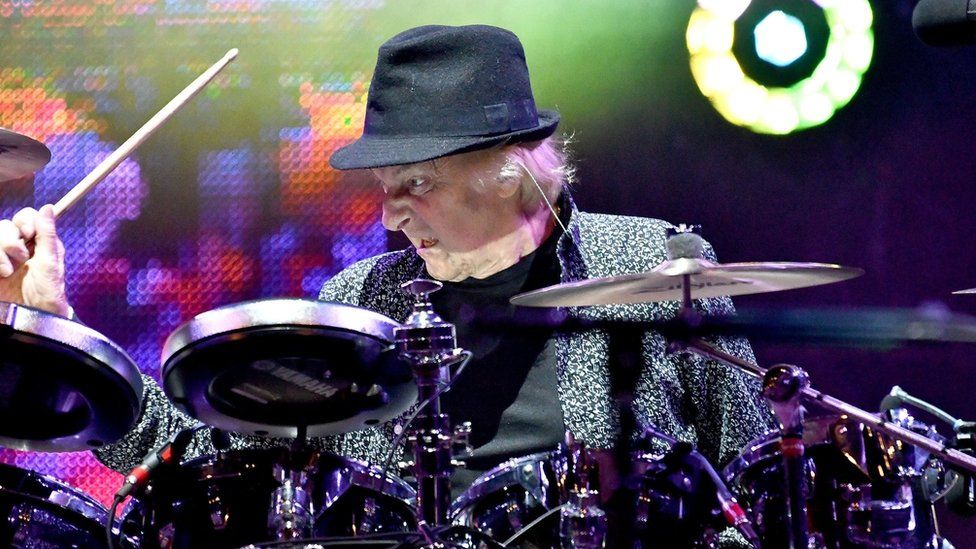 Alan White, the drummer with seminal prog-rock band Yes, has died.
The 72-year-old, who was born in Pelton, County Durham, died peacefully at his home in the US after a short illness.
He had been looking forward to a forthcoming UK tour and celebrating his 50th anniversary with Yes, which he joined in 1972, the band said.
During his career White also worked with stars including John Lennon, George Harrison and Joe Cocker.
In a social media post, the band said: "Alan White, our beloved husband, dad, and grandpa, passed away at the age of 72 at his Seattle-area home on May 26, 2022, after a brief illness.
"Throughout his life and six-decade career, Alan was many things to many people: a certified rock star to fans around the world, band mate to a select few, and gentleman and friend to all who met him."
Yes was founded by former frontman Jon Anderson and bassist Chris Squire in 1968 in London, alongside guitarist Peter Banks, keyboardist Tony Kaye and drummer Bill Bruford.
The band went through numerous line-ups featuring stars such as White and Rick Wakeman, exploring many musical styles.
Their hits include Owner Of A Lonely Heart, Roundabout and Long Distance Runaround.
White began playing the drums aged 12 and was performing publicly at the age of 13 .
He worked with a variety of bands in the 1960s and then in 1969 received what he thought was a prank phone call pretending to be Lennon.
However, it really was the former Beatle calling to ask if White would join the Plastic Ono Band, and he ended up playing on several Lennon albums, including Imagine.
This led to an introduction to Harrison, who asked the drummer to play on the album All Things Must Pass, including the single "My Sweet Lord".
When White joined Yes - on 27 July 1972 - he had just three days to learn the songs before the start of a big US tour.
With the passing of founding member Chris Squire, in 2015, White was the longest continuously serving band member.
Yes were inducted into the Rock & Roll Hall of Fame in 2017.