Whitley Bay woman goes to Poland to help Ukraine refugees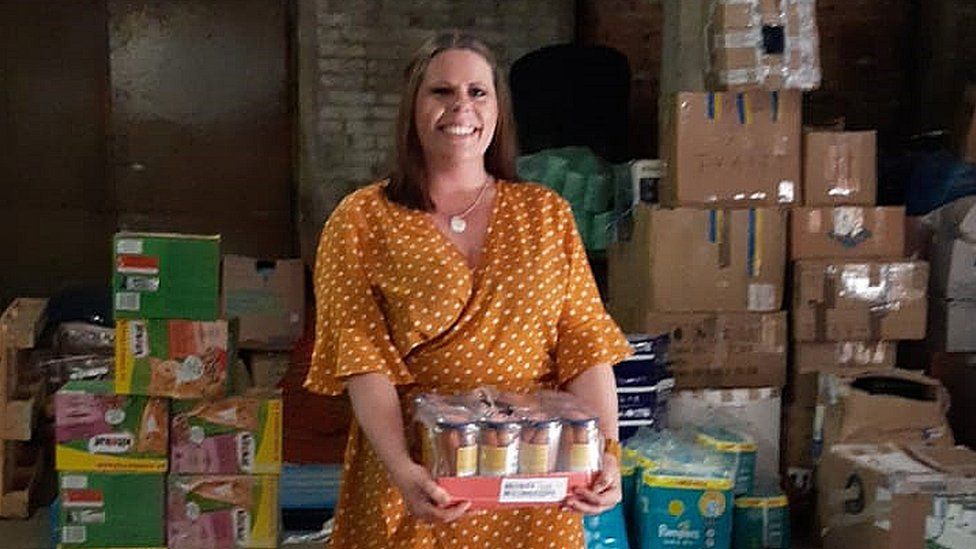 A woman who moved from the UK to Poland to help Ukrainian refugees says she has been both inspired and devastated by what she has witnessed.
Lucie Shanks, 43, left her home in Whitley Bay in March to go and help in the wake of the Russian invasion.
The former support worker has since got to know many refugees and has been struck by their strength and resilience in the face of suffering.
"Anyone of them could be you or me," she told BBC Radio Newcastle.
Ms Shanks, who runs a candle business, said she felt moved to do something after reports of people fleeing Ukraine.
"I actually saw a woman on the news and I just thought that could be my mum," she said.
"It was just devastating, I couldn't stand by and watch."
She travelled to Poland independently but is now managing an eight-strong team of aid workers from across the world called The International Humanitarian Support Team.
As well as helping Ukrainians fleeing the invasion, Ms Shanks' group are making regular journeys into Ukraine to deliver supplies to those left behind.
She said she has seen the widespread destruction caused by missile strikes and came close to being hit while on a trip to the city of Lviv.
"Putin is just destroying everywhere and causing so much devastation," she said.
Ms Shanks is being cautious about who she speaks to amid fears Russian spies might be leaking information which could put aid workers in peril.
The BBC has decided not to reveal where in Poland her group is based.
"I don't think anybody feels safe but if we don't do it, that is what Putin is trying to achieve, to scare aid workers to not get aid to the front line," she said
She has seen and heard many stories of loss among the Ukrainians, including one woman who had to leave her 100-year-old mother behind which was "just devastating".
She said the circumstances were heart-breaking: "Mentally you've got to try and push things down because otherwise everything is going to go to pot."
She said she felt "quite emotional" about the "most lovely" people of Ukraine, adding: "These people are hard working, polite, very caring.
"Anyone of them could be you or I.
"I don't know where they find the strength but they've got no choice have they?"