Derwentside immigration detention centre 'resurfaces trauma'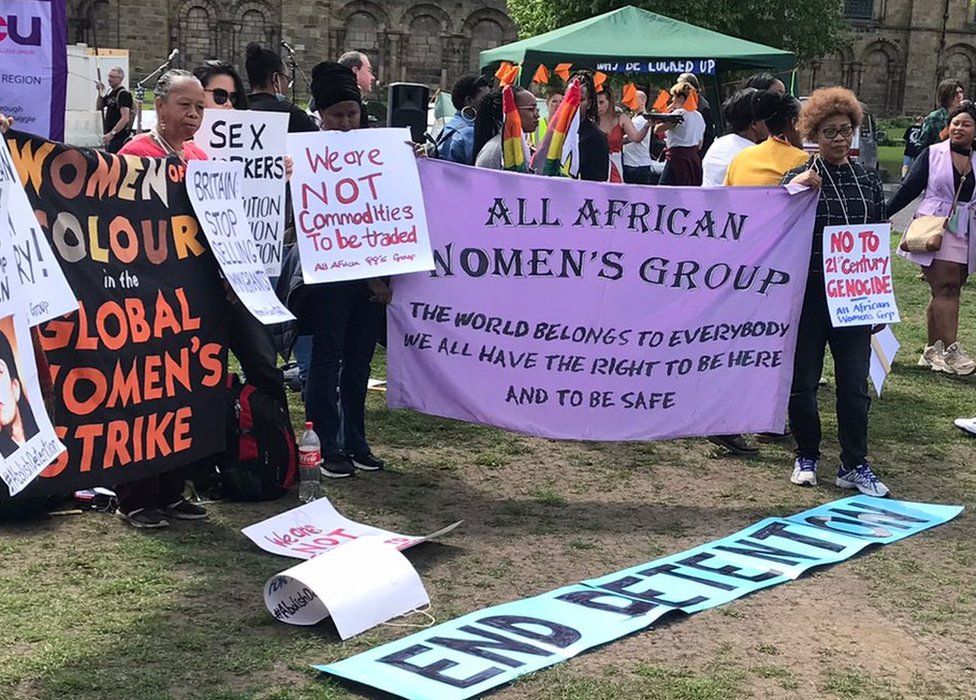 Protestors against a female immigration detention centre say it "retraumatises" already vulnerable women.
At a demonstration against the centre on Durham's Palace Green campaigners called for the government to show "compassion".
The Home Office said "the public expects" the UK to remove "those with no right to be in the UK".
Agnes Tanoh, who fled violence on the Ivory Coast, said detention "destroys" women.
"It's not a place to put people who are already distressed and depressed," she said.
Ms Tanoh said earlier that the government had broken its promise "to reduce its use of detention because of the harm it causes" by opening Derwentside last year.
The site previously served as the Medomsley detention centre for young offenders and was the scene of widespread abuse for decades before it shut in 1988.
People's Assembly North East, which organised the protest, said many of the women at the centre were "innocent of any criminal activity and are detained for unjust, unnecessary and inhumane administrative purposes".
Many had been trafficked, tortured or abused and "confinement and imprisonment resurfaces trauma", it said.
Also speaking at the demonstration, human rights lawyer Margaret Owen said the women at the centre had "gone through a living hell".
She said: "When they come here what are the met with? Not the compassion, the kindness and the protection they deserve."
The Home Office said 95% of those liable to be removed are managed in the community rather than centres such as Derwentside.
A spokesperson said vulnerable people were only detained when this was outweighed by immigration considerations "such as risk of non-compliance with immigration bail or for the protection of the public".
North Yorkshire poet and writer Kate Fox, also speaking at the protest, said the women were not a danger.
"That's just demonising women who are really struggling," she said.