Tyne Tunnel debt collection letters 'intimidating and misleading'
By Francesca Williams
BBC News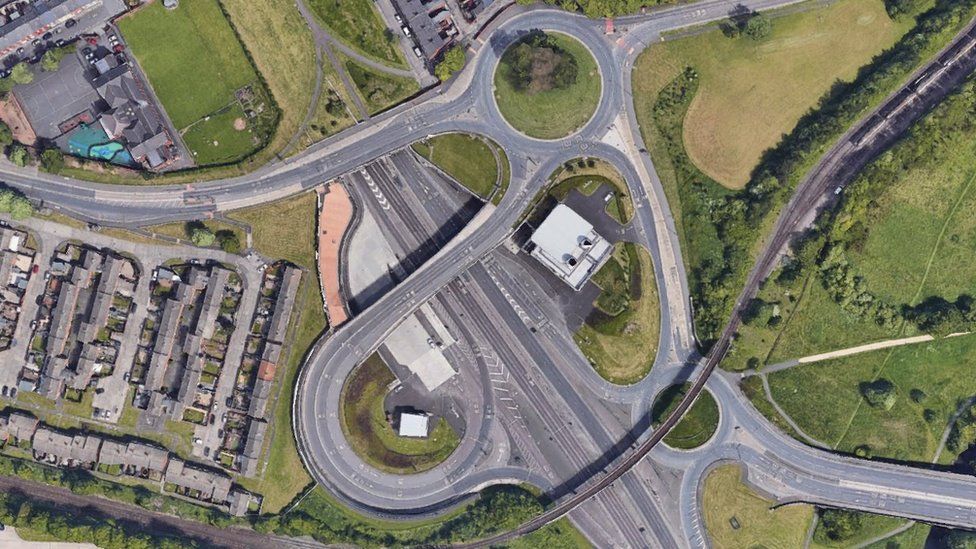 Debt collection letters sent to drivers accused of not paying Tyne Tunnel toll fees are "intimidating and confusing", debt charities have said.
Motorists, some of whom said they had paid the toll, claimed they were "harassing" and "stressful".
The letters threaten fines and criminal conviction and list the risk of further costs, High Court orders or bankruptcy.
Tunnel operator TT2 said the wording was "fair and appropriate" and in line with best practice.
Gary, who is on Universal Credit and did not want his surname used, said his letter was "totally stressing me out" as it was a "huge bill" and there did not seem to be any room for negotiation.
"Tyne Tunnels have completely washed their hands of the situation within a very short period and just say it's in the hand of the third party and I have to communicate with them," he said.
TT2 said the debt collection agents (DCAs) were trained in dealing with people in difficult circumstances and there were "options available to support these customers".
The letters are sent by one of two agents - Marston Recovery and Court Enforcement Services, which is part of the CDER group - to drivers who have been issued with a charge notice and not paid it.
Some drivers claim the notice is invalid as they paid the toll, others argue their toll payment should have been accepted even though it was late. A number claim their toll was only late because of flaws in the payment system.
Charities and critics of the system say the debt should not be passed on to a debt agent while it is disputed.
The initial penalty is £60 on top of the original £1.90 fee, reduced to £30 if paid within 14 days. This rises to £100 if not paid within 28 days, after which the debt is passed to one of the two DCAs.
The agent then adds its own fee but some drivers are charged more than others. TT2 could only explain the disparity in Marston adding £65 and CDER £75 as being "based on their costs for recovering the debt".
If left unpaid, the money owed rapidly increases as various fees are added which has left some drivers facing demands for more than £700.
Users of the Tyne Tunnel Campaign Facebook group said the wording of the debt recovery letters made them frightened court judgements would be made against them.
Gary said letters from Court Enforcement Services used the words "enforcement agents", which made him think they had "some bailiff powers".
However, debt agents have no special powers and are not bailiffs, who have the legal authority to enforce payment once a matter has been to court.
One driver was sent a text warning his vehicle might be removed if he did not pay, although this cannot happen without court involvement. When contacted by the BBC, CDER said the text had been sent in error.
Sue Anderson, from the debt charity StepChange, said the letters sent by Marston and Court Enforcement Services/CDER were a "prime example of poor debt collection practice".
The letters were "designed to push people into paying large penalties", she said.
Ms Anderson said using language that is "intimidating and confusing, with threats of quick escalation to enforcement action" may also cause people to "disengage".
The Money Advice Trust (MAT) said some of the wording in the letters could be "misleading and imply greater powers of recovery than are possible", but the agents denied this.
They also caution against not making clear the number of legal steps required before enforcement action can be taken and implying it is more likely than it is.
However, these were drawn up by a now-defunct government department replaced by a new body with no remit for this type of debt. Charities say it is not clear who now deals with complaints in this area.
CDER said the reference to enforcement agents on its letters "is standard text and reflects the primary nature of the business CDER Group undertakes".
It said it was "unclear of the objection" to the trading name Court Enforcement Services.
Some drivers have said they did not realise they had paid late and argue the deadline is unreasonable and inflexible.
Alison, from South Tyneside, has a screenshot of her £7.60 payment for four journeys taken by her husband but her appeal against the UTCNs was refused by TT2 on the grounds she had paid 12 hours late.
The debt was passed to Marston and is now more than £700.
Alison said the company repeatedly called, texted and emailed her, although her husband was the driver.
"But then, when I try to talk to them about it they say you haven't got any authority - the debt's not in your name," she said.
"They've harassed me to death, they've harassed my husband to death."
Alison said the wording in the emails and letters was "shocking".
Marston said this was drafted in consultation with TT2 to "clearly explain the possible outcomes of non-payment, encourage the recipient to make contact with us and include contact details for free and impartial sources of advice".
Between November 2021, when the tunnel went cashless, and the end of April TT2's revenue from UTCNs was £6.38m, nearly a third of the company's income.
Drivers made an average of 1,347,818 journeys a month with 96.3% paying on time in April, up from 94.6% in November.
The company said it had an obligation to the North East Combined Authority (NECA), which owns the tunnel, to keep toll non-compliance as low as possible and UTCN revenue was spent on recovering unpaid tolls.
It said the fact that 46.9% of UTCNs were cancelled on appeal in April "demonstrates how fair, reasonable and lenient NECA and TT2 are being in respect to customers who do not pay".
But Mark Hurrell, from the Tyne Tunnel Campaign, said the revenue from penalties was "massive".
He said the campaign group did not question TT2's entitlement to collect toll payments or pursue deliberate avoiders but it was "not fair" drivers could not "stick up for" themselves without being pursued for debt.
"We get hundreds of people saying the same thing, so they can't all be deliberately trying to not pay," he said.
Related Internet Links
The BBC is not responsible for the content of external sites.