Tyne Tunnel toll payment instructions signs 'useless'
By Francesca Williams
BBC News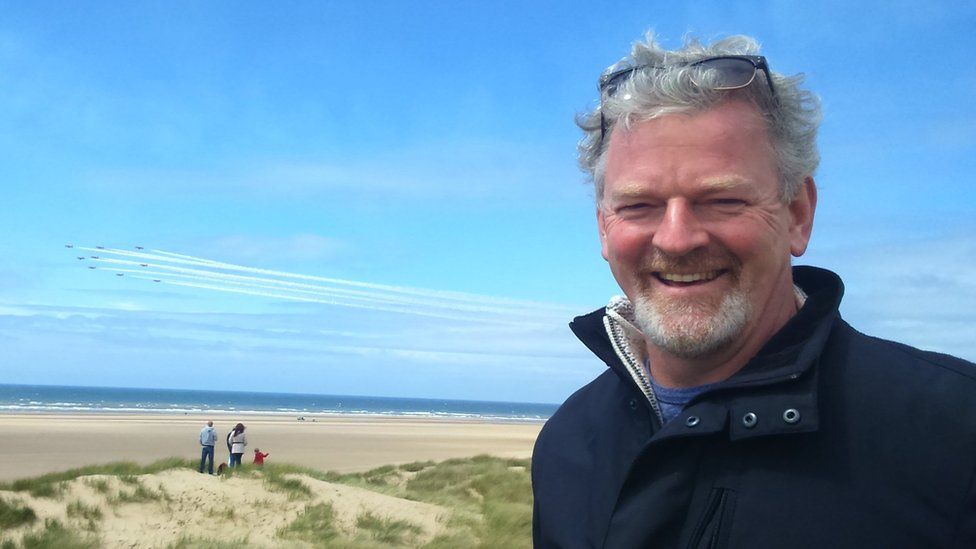 A motorist threatened with a fine for paying a toll fee two days late says payment instructions are on "useless" temporary signs which are easy to miss.
Mark Birkett, 57, from Rochdale, has since filmed a journey through the Tyne Tunnel which he says shows only two signs which mention a payment deadline.
He also said there was nowhere to stop to write down the required details.
TT2, which operates the tunnel, said the current yellow signs were "mandated by law in roadworks".
They were "designed in collaboration with local authority highway officers", a spokesperson for the firm said.
This was largely down to mitigating circumstances or TT2 "upholding a higher than usual level of appeals" to help educate customers, it said.
Mr Birkett, a musician and co-director of a market research recruitment firm, travelled through the northbound tunnel on the "wintry" night of 10 December and returned in January to film footage "to prove that the signage just simply isn't good enough", he said.
"There's no way on earth that anybody could absorb all the information that's on those signs when they're all unlit."
Norris Atthey from Northumberland, who has had one UTCN cancelled and is going through the appeal process for another, said the signage was "pathetic".
TT2 said every driver would see "two pay-by-midnight and two payment options messages, as a minimum".
Large advertising screens had been installed at the tunnel entrances and permanent signage would be put in place once roadworks were complete, it said.
Customer feedback would be taken into consideration "within Department for Transport parameters", it added.
Drivers who do not pay the toll by midnight the following day face a £60 UTCN, reduced to £30 if paid within 14 days or increased to £100 if not settled within 28 days.
Mr Birkett said he expected to pay but only realised there was a deadline on his southbound return journey on 13 December. He paid both tolls that Monday.
But TT2 told him he would still be receiving an UTCN and, if he did not pay that, the matter would be handed over to a debt collection agency, he said.
"It's so aggressive and threatening I just thought I'm not standing for it and I don't think anyone else should," he said.
Mr Birkett is crowdfunding online to support a judicial review of the toll processes.
"There's no way on earth, as far as I'm concerned, that a firm that is profiting from these UTCNs can be marking its own homework with regards to appeals," he said.
TT2 said a sample of its appeals were audited every two months and 100% had been passed as correctly conducted.
"In addition to this, we have voluntarily signed-up to be scrutinised by the statutory, independent transport watchdog Transport Focus," a spokesperson said.
Related Internet Links
The BBC is not responsible for the content of external sites.