Matfen Hall: Couples 'distraught' as weddings cancelled amid price hike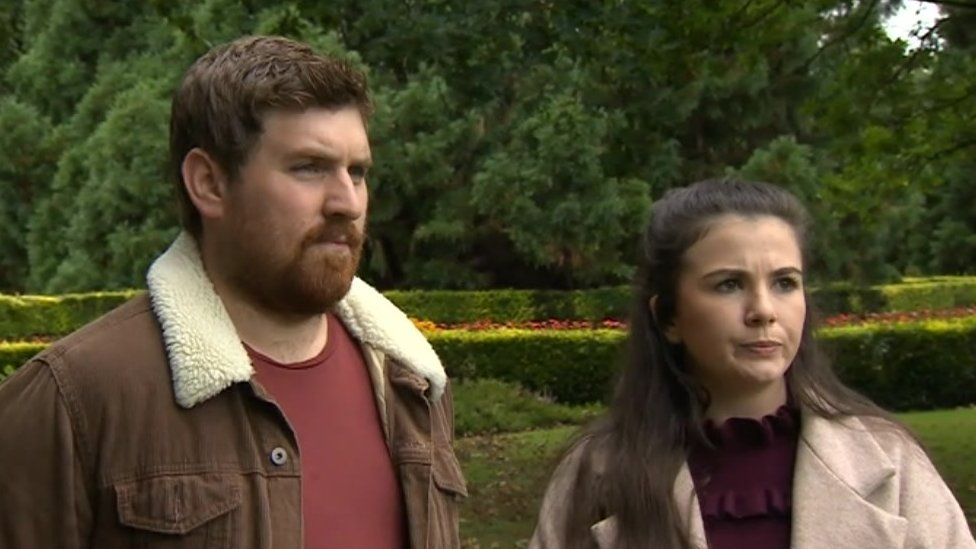 Couples planning to get married at a luxury country hotel are furious to have been told they must rebook at twice the price.
Matfen Hall in Northumberland has introduced a minimum spend of £20,000, an increase of about £10,000 for many of its events.
It said it "could no longer sustain" weddings at agreed prices and had given "more than nine months' notice".
Vickie Blood, who was due to marry next year, said she was "in shock".
"When I received the email I just burst into tears, I was distraught," she said.
"We've had this booked since February last year."
The new minimum spend meant the original cost of £10,500 had almost doubled and the price for guests' rooms had increased from £195 to £299 each, she said.
Miss Blood and her fiancé Greg Williams, from Newton Aycliffe, County Durham, are due to get married in June.
They were unable to take out wedding insurance because of the pandemic and, if they cannot find an alternative venue for the same day, stand to lose deposits they have paid to suppliers.
"I've got my hen do next weekend for a wedding I don't actually have booked now," Miss Blood said.
"It's just awful, really awful."
Nurse Laura Roberts is searching for another venue after her quoted price doubled and said it felt like "a kick in the teeth" after all her efforts during the pandemic.
"I've worked so hard over the past year and a half and this is what we, as a couple, were looking forward to," she said.
The hotel was taken over last year by the Walwick Estate Group, which owns Walwick Hall near Hexham.
Some responses to its social media statement said the new management had confirmed quotes agreed by the previous owners, only to later cancel bookings and ask for them to be rebooked at the new price.
In a statement Matfen Hall said it had honoured 119 weddings at prices agreed in 2019 and 2020, for which it had incurred a loss of more than £1.2m.
"When we made that commitment, it was with the best of intentions but regrettably, it is one we can no longer continue to sustain," it said.
"We understand that this will be disappointing for those affected by this difficult decision, made in light of what is currently an extremely challenging time for the hospitality sector."
While there is no suggestion the hotel has breached its contracts with the couples, Shona Alexander, chief executive of Citizen's Advice Newcastle, said it was "very shabby practice" to "take it out on these couples because they're an easy target".
She said the company should have honoured the existing bookings and couples not wanting to pay more should get their deposit returned in full.
Related Internet Links
The BBC is not responsible for the content of external sites.