Elections 2021: Tories win Northumberland after dead-heat ballots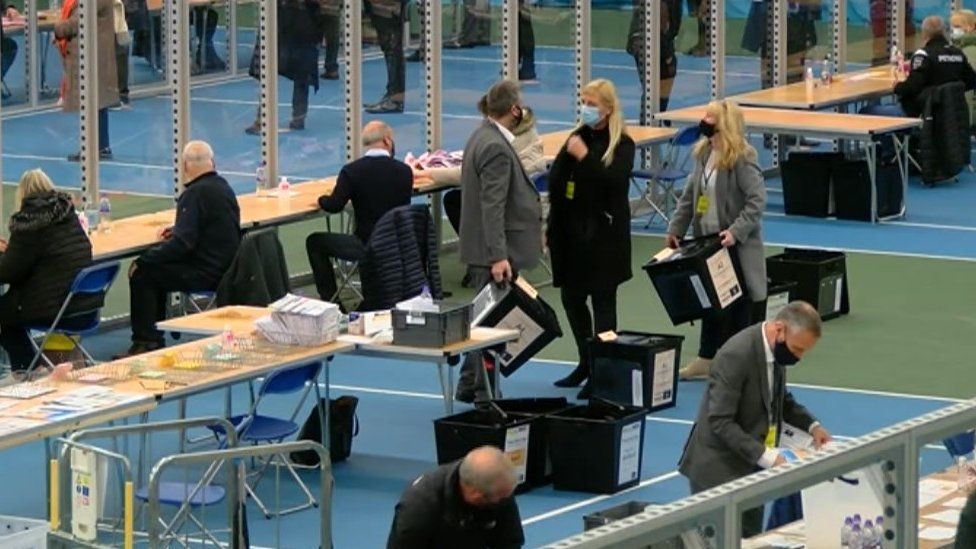 The Conservatives have taken control of Northumberland after they won one seat by drawing lots because two candidates had exactly the same number of votes.
However Labour remains in power at other councils after losing two seats in Newcastle and four in South Tyneside, but none in Gateshead.
Labour still controls Sunderland but the leader called it a "bad night" after losses following 50 strong years.
Northumberland Council's new Tory leader said it had "steady" leadership.
Results for North Tyneside and Durham councils, as well for the North Tyneside mayor and Durham Police and Crime Commissioner are due over the weekend.
It marks the first council elections in two years after the 2020 polls were postponed nationally due to Covid-19.
In Northumberland there were dead heats in two wards - where the candidates with most votes got exactly the same number - and the winners were decided by picking lots out of a box.
The Conservatives' David Ferguson took the Hartley ward, seeing former Labour leader Susan Dungworth lose out, after both candidates gained 868 votes.
Meanwhile in Berwick West with Ord, the Liberal Democrats' Elizabeth Hunter was victorious over the Conservatives' Gregah Roughead after both polled 409 votes.
The Tories ended up with 34 seats - a majority of one, with Labour on 21, seven independents, three Lib Dems and the Green Party on two.
Glen Sanderson, Conservative leader of Northumberland County Council, said he believed the party had "steady" and "solid" leadership following a turbulent few months, which saw the chief executive placed on "extended leave" after "raising concerns" and the former Tory leader ousted in a no-confidence vote.
"We have delivered a lot of incentives for economic growth for jobs, looking after people who are suffering most from the effects of Covid and also the fact that our brilliant staff have continued to do all the frontline services so well during this very hard 12 months," he added.
Search below to find the result in your area.
Sunderland City Council's Labour leader Graeme Miller called it "a bad night" locally but said it would be a "foolish thing" for the party to oust Sir Keir Starmer as leader.
The party still has 42 councillors but lost nine seats and has just four more than the 38 needed for a majority.
He said defeats had been caused by the "complete collapse" of UKIP, with the Conservatives gaining their votes.
"We have clearly seen that the vaccine rollout has given the Conservatives a 10-point bounce in the vote anyway, add those things together, the Conservatives in Sunderland have had a very good night, and the Liberal Democrats have had a good night as well," he said.
"We have been beaten by circumstances that are not really a local authority issue."
Newcastle's council leader Nick Forbes faces a leadership challenge on Monday from a rival and one of his former cabinet members, Nick Kemp.
The city's ruling party, which still boasts a heavy majority, saw two seats fall to the Newcastle Independents party, however one of its most senior figures, cabinet member for transport Arlene Ainsley, lost hers.
Labour did hold off challenges from the Liberal Democrats in the battleground seats of Ouseburn and North Jesmond.
Despite making major gains elsewhere in the region, the Conservatives' long run without an election win in Newcastle continued. No Tory has been elected in the city since 1992.
Mr Forbes, whose focus now turns to the battle for his own political future, took solace in the fact that Labour's performance in Newcastle was stronger than elsewhere.
"It looks as though the results for Labour in Newcastle are better than the trend for the rest of the North East," he said.
South Tyneside Council leader Tracey Dixon, who was re-elected, said she was "slightly disappointed" after Labour lost four seats - two to the Green Party, one to the Conservatives and one to an independent.
"That isn't for the want of the candidates trying, it's been a very difficult year for this year's election," she added.
On the lessons learned from this year's election, the council leader said she wanted to "do a little bit of a deep dive into what went wrong".
In Gateshead, Labour retained all of its seats up for election with healthy majorities, as well taking two extra places on the council.
Leader Martin Gannon said residents had "respect and confidence" in the way the local authority was run, "whatever people may think of national politics".
The overall political makeup of Gateshead is 52 Labour, 13 Lib Dem and one independent.
Related Internet Links
The BBC is not responsible for the content of external sites.