Covid-19: Sunderland couple spent wedding anniversary in hospital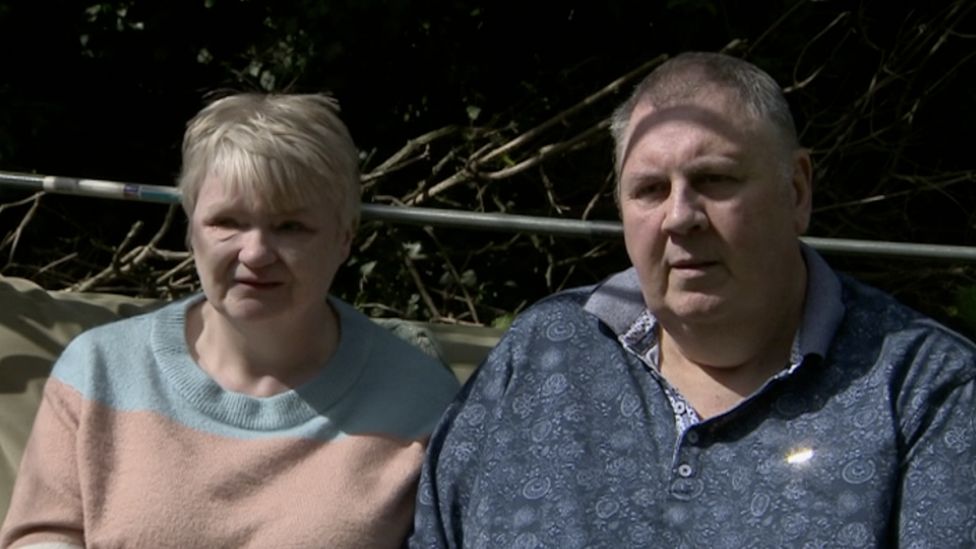 A couple who spent their eighth wedding anniversary in hospital together after they both contracted Covid-19 have thanked staff for saving their lives.
Peter and Sheila Kirkup were admitted to Sunderland Royal Hospital within days of each other earlier this year.
To celebrate their anniversary, staff on Ward E54 arranged for the couple to have their hospital meals together.
Sheila said: "It was very emotional but I am just so happy that we are both here together and alive."
Peter was admitted to hospital on 24 February after experiencing a continuous cough, shivering and breathlessness and spent 15 days on Ward E54.
Five days later, Sheila was admitted.
"I felt poorly for a few days over the weekend while Peter was in hospital, but by Monday it got to the point where I couldn't even speak, so I phoned an ambulance who took me to hospital straight away," she said.
Her condition deteriorated and the 58-year-old spent three days in intensive care fighting the virus.
Peter, 67, said: "We just didn't think we were going to come out, that's how bad it was.
"We're getting there, it's a bit of an uphill battle because we still get breathless, but we're sitting in the sunshine in the garden and we didn't think we were going to see that anymore.
"It's all thanks to the staff at Sunderland Royal, they were fantastic. We owe them, they saved our lives and we're just full of gratitude to them."
The couple were clapped out of the ward by hospital staff when they were discharged together six weeks ago.
Ward manager Deborah Carr said: "When we discovered that Peter and Sheila's wedding anniversary was coming up, we wanted to make it special considering their circumstances.
"But, the biggest satisfaction for us was being able to discharge the couple back home together and see them smile as they left the ward."
Related Internet Links
The BBC is not responsible for the content of external sites.