Rupert Bear turns 100: The adventures continue
By Chris Robinson
BBC News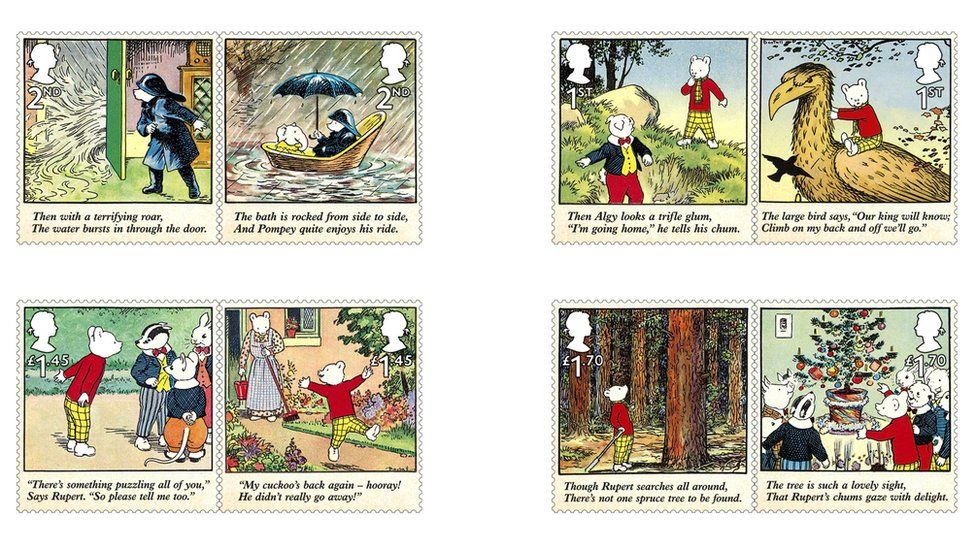 A little bear is celebrating a very big birthday: Rupert has turned 100. To commemorate the milestone, the anthropomorphic adventurer has been honoured by the Royal Mail in a set of eight stamps.
Rupert first appeared in the Daily Express on 8 November 1920, as Little Lost Bear - the work of illustrator Mary Tourtel.
The character, whose famous red jumper was originally blue, was part of the newspaper's push to attract new readers.
Alfred Bestall took over from Tourtel in 1935 as Rupert's illustrator, remaining with him until the early 1970s, and it's his distinctive style that appears in the new stamps.
But a century on from his first appearance, can Rupert stay relevant to young readers?
At Seven Stories, the National Centre for Children's Books in Newcastle, an imaginative world of colourful characters has been brought to life but there's little sign of the scarf-wearing bear.
"Charlie? Would you like a Rupert the Bear teddy for Christmas?" Ian Dodds asks his three-year-old son, who beams "Yes!" when he's shown a picture.
Ian, from Tynemouth, remembers the character fondly from his childhood, but the bear is not a familiar figure to his son.
"I think there are old characters who have been modernised; Charlie loves Thomas the Tank Engine, even Bob the Builder, so I think if they modernised him he would be well into him," he says.
Nicholas Tucker, former senior lecturer in children's literature at Sussex University, believes Rupert's popularity was about being able to get into children's imaginations.
"With Rupert you can fly in a plane, you can look at the roots of tree and suddenly find a passage down to another world entirely, and you get back in the evening," he says.
"He's never in too much danger and although there are some malign figures, Rupert is a good person and nobody ever gets too angry with him."
The Rupert Bear Annual has been published ahead of Christmas every year since 1936. Rare copies have fetched more than £20,000.
Stuart Trotter can still remember receiving his first copy as a four-year-old. He coloured in a picture for a competition but changed his mind about sending it off as he didn't want to tear the page out.
Six decades later and he's just as meticulous over Rupert - this time as the annual's illustrator.
Stuart, from County Durham, has illustrated the annual's cover and created a story for it since 2008. It's a process that can take up to six months.
"I lived in Ferryhill, it was a mining town, everything was very black and white - the TV was black and white, the newspaper was black and white, and then on Christmas Day I got my first annual and there was this amazing blaze of colour and imaginative stories, and I was just hooked from then on," says Stuart, who has also illustrated Postman Pat and Kipper the Dog.
The centenary edition includes a time-travelling adventure about Rupert's birthday.
"I never drew him when I was a kid, I just used to like reading the stories. And the opportunity came later on in life and I took it," he says.
Stuart says he would like to continue to draw Rupert until he can "draw no more".
"I'm not in a job where you retire. I work very long hours and enjoy it; it's never a chore," he adds.
"The Rupert I remember was illustrated by Alfred Bestall. I just loved his style of artwork and Rupert is an iconic character; he's very much in his time, and so there's no mobile phones, there are no computers - I did introduce a television in one story, but it was a Bakelite television.
"I like to keep him in that era as it's an era I remember fondly and I just don't think he should be modernised - I think he should stay in that period."
Gill Rennie, curator at Seven Stories, believes there still is a place for Rupert, despite today's hi-tech world being a far cry from the quaintness of Nutwood.
"The world he lives in is like a nostalgic adventuring world but it's probably not the most accessible for children getting into reading today," she says.
"The annuals are a big thing in British Christmas culture, and it's lovely that Rupert has been kept alive in that way. That goes back to classic children's book characters or children's cartoon characters; they become part of culture, whether or not you have read every story."
She said although most people knew who Alice from Alice's Adventures In Wonderland was, few would have read the whole of the Lewis Carroll book.
"That doesn't really matter because she lives on and she can be adapted and that's good, that's creative, and I think that's the same for Rupert," Ms Rennie adds.
Rupert and his friends did receive a makeover more than a decade ago when they appeared in a new series on Channel 5, aimed at younger children.
So are his older fans worried about the latest version of their beloved bear?
"We have an open mind as long as it keeps the original ethos," says John Swan, chairman of the Followers of Rupert, which has about 600 members.
The society was formed in 1984 and takes its name from the slogan: "Follow Rupert every day in the Daily Express". Illustrator Bestall even attended the society's first meeting.
The group meets each year, although the long-awaited centenary event has had to be postponed due to the Covid-19 pandemic.
"Many of the fans appreciate the artwork, the illustrations, and we talk about that," says John, who lives in Whitley Bay.
"We don't all wear yellow trousers," he explains. "Although someone might for a laugh."
Images: RUPERT BEAR© & TM Express Newspapers & DreamWorks Distribution Limited.
Related Internet Links
The BBC is not responsible for the content of external sites.