Plan to save home of Durham's 'Pitman's Parliament'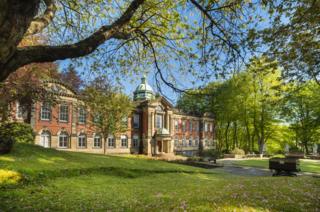 Millions of pounds is set to be spent transforming a run-down 104-year-old miners' hall in Durham into a community and arts hub.
The Grade II-listed Redhills Miners' Hall opened in 1915 and houses the "Pitman's Parliament", where delegates from nearby collieries once gathered.
Durham Miners' Association (DMA) says it needs £6.7m for the project and has bid for £4m of lottery funding.
Durham County Council has agreed to invest more than £1m in the scheme.
Described by the DMA as a "unique and extraordinary place", Redhills is in need of major renovations, especially to its roof.
The DMA has already secured £1m of funding and raised a further £50,000, the Local Democracy Reporting Service said.
Redhills was selected by Historic England as one of the 100 places that bring the country's "rich and extraordinary history" to life.
A recent inspection indicated the building would be rendered unusable unless a full roof repair was carried out within the next five to 10 years.
A Durham County Council spokeswoman said: "I think that this proposal will ensure a modern use for a very important historic building.
"The county has a very strong mining heritage and this can provide the background for future generations to learn about their history, while developing the skills and interests which will also shape their future."