Durham Miners' Gala: Thousands gather for 135th event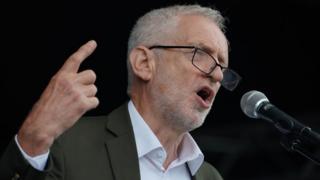 Labour leader Jeremy Corbyn has told the 135th Durham Miners' Gala the north-east of England has suffered the most under years of austerity.
An estimated 200,000 people gathered for what is one of the largest trade union events in Europe.
Mr Corbyn told the crowd that austerity had led to "poverty, grotesque over-crowding and a mental health crisis".
He also said a Labour government would investigate the so-called Battle of Orgreave during the 1984 miners strike.
Mr Corbyn said: "Labour will investigate Orgreave on day one in government, and other injustices.
"We will get to the truth and stop them ever happening again."
Earlier Mr Corbyn and other dignitaries saw almost 100 brass bands and banners from surrounding mining towns and villages parade through the city.
During his speech at Durham racecourse he praised the region's mining communities, who he said had "ensured miners were fed when the Tories were trying to starve them".
On the continuing controversy over anti-Semitism in the Labour Party, he said: "We will not allow or tolerate in any shape or form whatsoever anti-Semitism, Islamaphobia or racism anywhere in our party or our movement or our society."
He concluded: "Do not allow our message to be distracted.
"Keep your eyes on the prize if getting rid of this government and getting a Labour government dedicated to the redistribution of power and wealth in our society."
Known locally as The Big Meeting, the annual event is a commemoration of the area's mining heritage.
Alan Mardghum, secretary of the Durham Miners' Association (DMA), said: "Jeremy is the 15th leader of the Labour Party to speak at the Durham Miners' Gala and continues a tradition that dates back to the first Labour leader Keir Hardie, who spoke at The Big Meeting in 1906."
Ken Loach, known for films such as I Daniel Blake and The Wind that Shakes the Barley, was the reader at the Miners' Festival Service at Durham Cathedral, which is part of the gala.
He said: "It is an honour to be asked to be the reader at this year's Miners' Festival Service. I can't think of a more impressive occasion or a more magnificent cathedral."
Other speakers at the gala included Unite union general secretary Len McCluskey, North-West Durham MP Laura Pidcock and shadow attorney general Shami Chakrabarti.