Driver stranded at high tide on Holy Island causeway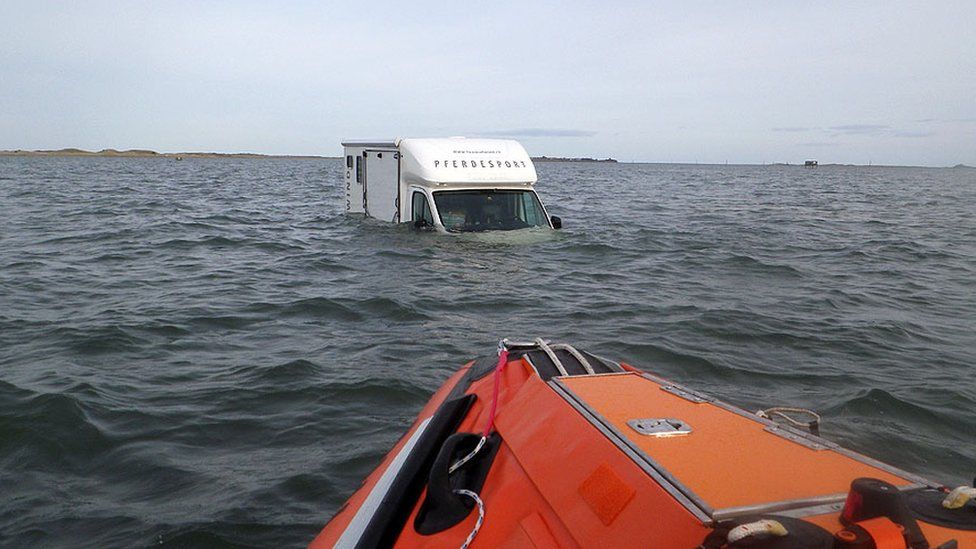 A horsebox driver became stranded when he attempted to cross a causeway at high tide.
The man had to be rescued when the van became submerged on the Holy Island road, which is under water twice a day.
He managed to escape and reach a refuge box. It is thought he did not realise it was unsafe to cross because he spoke little English.
Ian Clayton, from Seahouses RNLI, said: "We suspect that language problems may have contributed to this incident."
He added that despite the language difficulty they were able to establish no animals were inside the horsebox at the time.
The rescue happened just after 15:00 GMT on Saturday. Safe crossing times to the island - also known as Lindisfarne - on Saturday were 08:20 until 13:50 and it was unsafe to cross until 20:50.
Northumberland County Council installed warning signs at either end of the mile-long causeway in 2012 in a bid to cut the number of strandings.
They display a message to check the tide tables followed by the safe crossing times.
Related Internet Links
The BBC is not responsible for the content of external sites.