Morpeth Whalton Unit move sparks concern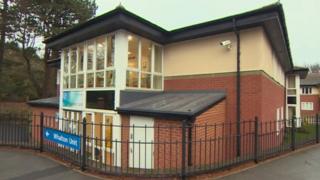 Concerns have been raised over the relocation of a purpose-built facility providing rehabilitation and end of life care for elderly and frail people.
The Whalton Unit in Morpeth, Northumberland, is being moved to a ward at Wansbeck Hospital in Ashington.
Northumbria Healthcare NHS Foundation Trust said it was a temporary measure to deal with winter staffing issues, and will be reviewed in the summer.
However, campaigners fear Morpeth will lose the unit altogether.
Local resident Barbara Ross has launched a petition calling for a public consultation over the move.
She said: "Decisions like this which are made suddenly cause anxiety and nervousness to the community, especially around the possible loss of other services.
"I think what we need is truth and transparency especially around the issue of their claims that it is temporary."
The Whalton Unit has 28 private rooms for patients.
Dr Jeremy Rushmer, medical director at Northumbria Healthcare NHS Trust, said: "I can absolutely assure you that we will be following due process.
"We are in the we are in the middle of a consultation which doesn't just apply to the Whalton Unit, it applies to community hospitals all around the county.
"Those matters will be dealt with and representations from the public and their councillors will all be taken into consideration."