Support letters for new Felling homes 'fake'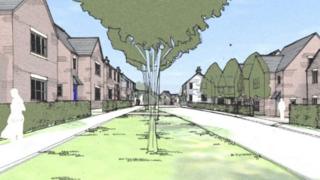 More than 20 letters in support of a proposed housing development are fake, a council has claimed.
Persimmon Homes' plan for 144 houses on the former Wardley Colliery site in Felling is being recommended for refusal by councillors.
Gateshead Council said 15% of support letters it has received are "known to be false representations".
Persimmon and landowner Bill Coats have denied any wrongdoing.
In a report for the council's planning committee, which meets on 12 December, planning officer Andrew Softley said he had "serious concerns" over "factual errors" in a flyer distributed by the landowner.
His main worry was a claim that if permission for the homes was not granted, Mr Coats would operate the yard as a waste transfer station.
Latest news and updates from the North East
Mr Softley said Mr Coats did not have permission for such a scheme and the claims could be seen as "exaggerated and intimidating" by residents.
In April, the council received a bundle of 140 letters supporting the housing plan, according to the Local Democracy Reporting Service.
One appeared to be signed by the spouse of one of the council's planning officers, but they denied signing it.
The council then contacted the other letter writers, with 21 saying they had not signed their support and some saying they had "never heard" of Wardley Colliery or the plan.
Mr Softley is recommending the plan be rejected as it would "significantly harm" the area's wildlife and surrounding Green Belt.
A Persimmon spokesman said: "We are confident that we have submitted a fair and accurate report to support the application for much needed housing and await Gateshead Council's decision."
Mr Coats declined to comment but Colin Ford, who co-owns a smaller section of the colliery land, said if housing were refused, an industrial use of the site would be likely.
He said: "Nobody is stirring the hornet nest, it is just the truth."