Northumberland lynx trial rejected by government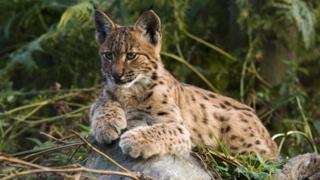 A bid to introduce lynx to Northumberland has been rejected by the government.
The Lynx UK Trust had wanted to release six Eurasian wildcats into Kielder Forest in a five-year trial.
Environment Secretary Michael Gove said government advisors had "particular concerns in a number of areas".
The trust said it was "disappointed" and would "go through the feedback in detail" before submitting a revised application next year.
The application was submitted to the Government's conservation agency, Natural England, which was then asked to provide advice to the Department for Environment, Food and Rural Affairs (Defra).
Mr Gove said the body had concluded the plan "lacked the necessary depth and rigour to provide confidence it would succeed".
As well as citing worries over "organisational resilience", funding and a reliance on volunteers, he said the "application lacked the assurances that impacts had been considered or that the area had been properly assessed as suitable for the lynx at the current time".
Citing NE advice, Mr Gove added the plan "did not demonstrate sufficient local support... and the socio-economic benefits of the trial were unclear".
The animals became extinct in the UK in about 700AD.
The Kielder plan would have seen the animals monitored by satellite collars.
Supporters believe they would help to control deer numbers, reduce damage to the forest and improve habitat for smaller animals, as well as provide eco-tourism opportunities.
The National Sheep Association raised concerns about the potential impacts, including losses of livestock and the welfare of the wild animals released into the "busy, industrial forest".
Its chief executive Phil Stocker said: "We strongly believe this is the right decision on ecological, social and agricultural grounds.
"Today's victory is not just for farmers but for the ecology of the area, the rural community and the farming economy."
The Lynx UK Trust chief scientific advisor, Dr Paul O'Donoghue, said it was "confident" it could satisfy all Mr Gove's reservations with its second application.
"To put all this in context, there were several failed license applications for beavers before they were eventually reintroduced, so this is only the beginning of our journey," he added.