Sunderland rally organiser William Charlton 'stirred up racial hatred'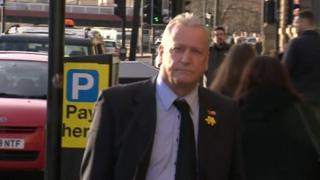 A man who organised a series of protest rallies described "immigrants" as "rapists", "animals" and "monsters", a court has heard.
William Charlton set up marches in Sunderland in response to an alleged attack on a woman in the city, Newcastle Crown Court was told.
Mr Charlton, 53, of Seaham, County Durham, told one gathering it was "up to us to fight" to "defend the people of Sunderland".
He denies inciting racial hatred.
Mr Charlton is charged with six counts of using threatening, abusive or insulting words or behaviour likely to stir up racial hatred at rallies between September 2016 and July 2017.
The court heard Mr Charlton, known to his supporters as Billy, organised marches through the Hendon area of Sunderland.
Prosecutor Sharon Beattie said he gave long speeches attacking "immigrants" and accused police of deliberately turning a blind eye to their behaviour.
She said: "There must be a place for legitimate debate about immigration, but that isn't what this was about."
Ms Beattie told the court Mr Charlton claimed he would condemn rapists "whatever their skin colour", but that "under a cloak of respectability" his real agenda was to provoke racial hatred.
Jurors heard there was widespread abuse directed at minorities by people attending the rallies as well as disorder and criminal damage in the Hendon area.
The trial, which is expected to last three weeks, continues.