Tyneside revellers warned to stay away from water in campaign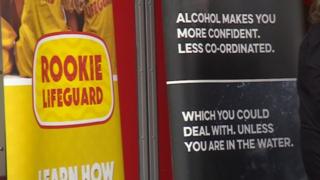 Revellers on Tyneside have been urged to stay away from water on a night out as part of a Don't Drink and Drown campaign.
Drowning prevention charity the Royal Life Saving Society UK (RLSS UK) said the area had one of the highest numbers of alcohol-related drownings in the UK.
Branch secretary Pamela Wilkinson said Tyne and Wear was a "key target" for the campaign.
Nick Pope, whose son drowned in a canal, also helped raise awareness.
"Drinking near or in water can be a dangerous and deadly cocktail," Ms Wilkinson said.
Official figures show nearly half of the 29 people who drowned in Tyne and Wear in the last five years had been drinking alcohol.
That compares with 30% of the 1,581 deaths in the UK as a whole, according to the National Water Safety Forum Water Incident Database.
Mr Pope, the father of 19-year-old student Charlie Pope, who was found dead in a Manchester canal, visited the Quayside as part of the campaign.
Mr Pope, from Ponteland, Northumberland, encouraged people on a night out to stay together.
"The reason I do things like this is just to bring it home to people that it can happen to you," he said.
"We never thought it would happen to our family, and it can."
Dave Irwin, a firefighter whose 22-year-old son drowned on a night out, is also supporting the campaign.
"If I can manage to stop this tragedy from ever happening again I am willing to talk about this incident to anybody who is willing to listen," he said.
"It was my firefighter colleagues and friends who removed the body.
"I spent 14 years on that watch and they knew who Ross was as soon as they removed his wallet from his jeans."