Newcastle United fans protest with 11th-minute walk-in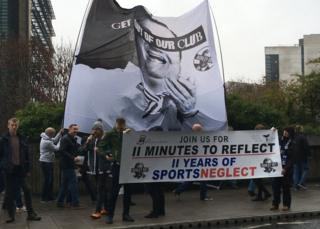 Some Newcastle United fans walked in late to a match in a protest against the club's owner.
The supporters stayed out of their seats until the 11th minute of the game against West Ham to mark their anger over Mike Ashley's 11-year tenure.
Organisers The Magpie Group claimed the late walk-in at St James' Park would "bring global attention to the repulsive way Ashley runs" the club.
The club has been approached for comment. Newcastle lost the match 3-0.
Views of the stands at the beginning of the match suggested the numbers turning up late had not been significant.
Magpie Group spokesman Wallace Wilson said Mr Ashley's tenure had been "disastrous for the club".
The group is also asking supporters to boycott the televised game against Wolverhampton Wanderers on 9 December.
"The reason behind that is to demonstrate what St James' Park could look like next year if Mike Ashley doesn't back the manager," Mr Wilson said.
David Cresswell, who has been a fan for 44 years, accepted the protest might have little effect on Mr Ashley, adding: "But we've got to start somewhere."
Fans needed to "get that message really quite clearly across to him" that they would not renew their season tickets if manager Rafael Benitez leaves, he said.
The Magpie Group wanted to encourage Mr Ashley to sell the club at a reasonable price, according to Mr Wilson.