Tyne Bridge makeover to be delayed until at least 2020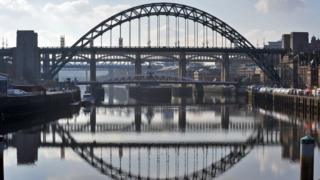 The "iconic" Tyne Bridge is unlikely to get a much-needed makeover until at least 2020, councillors have been told.
The Tyneside landmark, which recently turned 90, has not undergone major maintenance since 2000.
Newcastle City Council had hoped to bid for government funding for the major refurbishment, but officials said an opportunity "had not yet arisen".
The project, which would include safety checks, repairs and a new coat of paint, is expected to cost up to £20m.
Work on the Grade II* listed structure would also include the resurfacing of its dual carriageway and footpaths, according to the Local Democracy Reporting Service.
A Newcastle City Council spokesman said: "The 90-year-old Tyne Bridge is the North East's most iconic landmark and requires regular safety checks, repairs, preservation and upkeep.
"The bridge is due a major refurbishment programme to preserve it for future generations, which would include the sizeable task of repainting the structure.
"We are looking to secure funding from the Department for Transport to allow us to undertake works to fully refurbish the bridge which would cost in the region of £15-20m."
He said the work would take "a minimum of 18 months to complete."
As part of the project, damaged bird netting that has trapped and killed kittiwakes nesting on the Quayside will also be replaced.
Greg Stone, Newcastle's Liberal Democrat opposition transport spokesman, said: "The Tyne Bridge should be a shining symbol of our city-region at the heart of Newcastle and Gateshead's Quayside, but instead it is becoming a shabby and scruffy symbol of under-investment in Tyneside's transport network."
A Department for Transport spokesman said that it was the council's responsibility to organise funding for the work, adding the government had allocated Newcastle City Council more than £30m of funding for highway maintenance between 2015 and 2021.
The bridge was opened in October 1928 by King George V and more than 70,000 vehicles now cross it every day.