Radio failure halts Tyne and Wear Metro network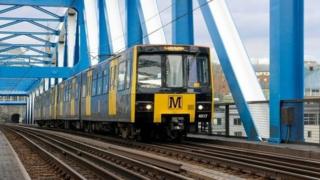 The entire Tyne and Wear Metro network was brought down by a "signalling and communication" failure earlier.
Problems on the system, which covers parts of Newcastle, North and South Tyneside and Sunderland, began at about 06:30 GMT.
Metro bosses apologised for the disruption but said trains could not operate due to the "major fault".
A limited service with "major delays" in some areas was operating by 11:00.
By 15:00, trains were running to all destinations, although still not to timetable.
Passengers were advised Go North East, Arriva and Stagecoach buses were accepting Metro tickets.
Metro services director Chris Carson said "the radio system we use to communicate with our train drivers" had not been working and that meant "trains cannot operate"
The network is operated by public body Nexus.
It took back control from German company DB Regio in 2017 after it regularly failed to hit punctuality targets.