Robbie Savage and Andrew Cole among claimants suing over payments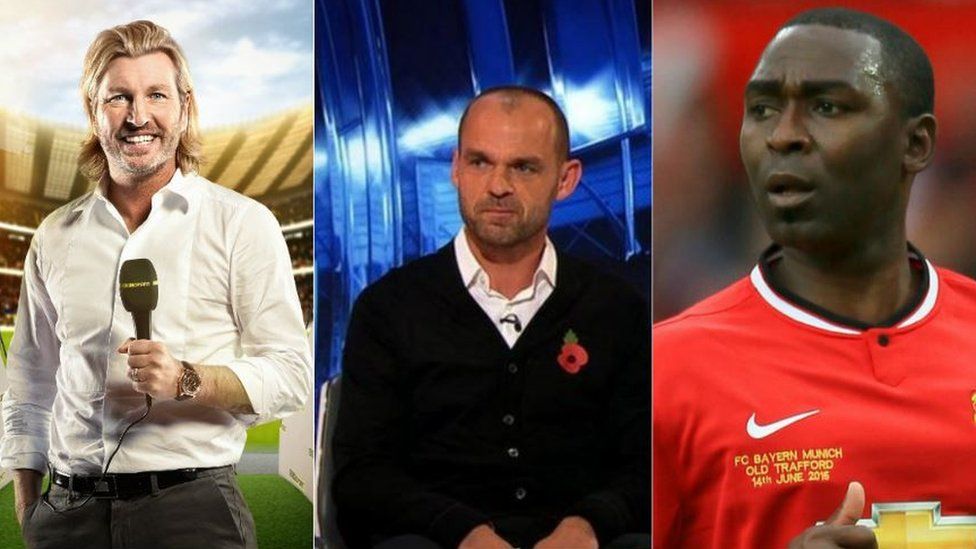 Robbie Savage, Danny Murphy and Andrew Cole are among more than a dozen former footballers suing an asset management firm over payments to agents.
They were put in touch with Formation Asset Management Ltd which then gave them advice on a number of investments.
They paid commission for this, but they were not told the money would be shared with the agents, the court was told.
Their claims are being challenged, Mr Justice Morgan said.
The 17 claimants are former footballers and one financial advisor:
Andrew Cole - Newcastle, Manchester United
John Curtis - Manchester United, Nottingham Forest
Sean Davis - Fulham, Portsmouth
Robbie Elliott - Newcastle, Bolton
Shaka Hislop - Newcastle, West Ham
Stephen Hughes - Arsenal, Coventry
Denis Irwin - Manchester United
Tommy Johnson - Notts County, Aston Villa
Zat Knight - Fulham, Bolton
Danny Murphy - Liverpool, Fulham, now a BBC pundit
Ian Pearce - Blackburn, West Ham
Robbie Savage - Leicester, Derby, now a BBC pundit
Jonathan Short - Derby, Blackburn
Jamie Smith - Crystal Palace
Gary Teale - Wigan
Tony Vidmar - Rangers
David Carr - Financial advisor
The claimants allege agent George Urquart owed them "a duty of loyalty, a duty to avoid a conflict of interest and a duty not to make a profit out of the fiduciary position".
But Mr Urquart claimed Robbie Savage "had actual knowledge of the fact that Formation AM paid commission" to him.
Two of the other defendants added it was "fanciful" to suggest they had been "dishonest or had been involved in a conspiracy".
They claim it was accepted "market practice" for money to change hands in this way.
Formation Group Plc
Formation Asset Management Ltd (in liquidation)
Ian Battersby
David McKee
Kevin McMenamin
Paul Stretford
George Urquart
Mr Justice Morgan said he had considered a number of procedural matters at a preliminary High Court hearing in London earlier this month.
A further hearing will take place at a future date, and the defendants were given permission to seek expert testimony.
Related Internet Links
The BBC is not responsible for the content of external sites.