Durham Cathedral restoration: 'Unwrapping' begins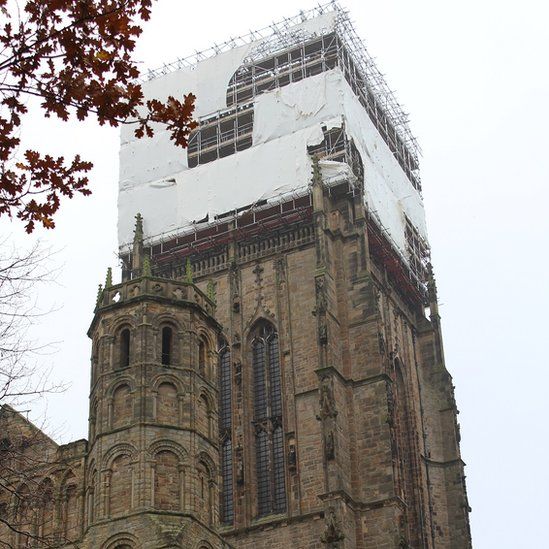 Work to "unwrap" part of Durham Cathedral's giant central tower has begun after a three-year project to restore the historic structure.
It was closed to the public in November 2015 to allow for £1.9m of repairs to masonry and lead roofing, and the installation of a visitor platform.
It will take until March next year to fully remove all the cladding and scaffolding from the 216ft (66m) tower.
Clerk of works Scott Richardson said the project had been "challenging".
The first stage will involve the removal of a protective scaffold sheeting, which has shielded the restorative work from the elements.
Despite some sheeting being lost during recent storms, no damage has been caused, with work underneath these areas already being complete.
Mr Richardson said: "Our team of stone masons have relished working on the tower project knowing that the central part of Durham Cathedral and Durham City's skyline is being conserved for future generations to enjoy.
"The work has been challenging, dealing with the logistics of working at such a height, at times halting high level work because of bad weather and winter snow."
Funding for the project has come from various sources, including the First World War Centenary Cathedral Repairs Fund, Friends of Durham Cathedral and the Surtees Trust.
Building work on the Anglican cathedral began in 1093 and took about 40 years to complete.
The body of St Cuthbert is enshrined in the cathedral as is the tomb of the Venerable Bede.
The Cathedral existed as a Benedictine monastery until 1539 when it became one of the Church of England's major Cathedrals.
Related Internet Links
The BBC is not responsible for the content of external sites.