Eight fined over Dipton mine newt protests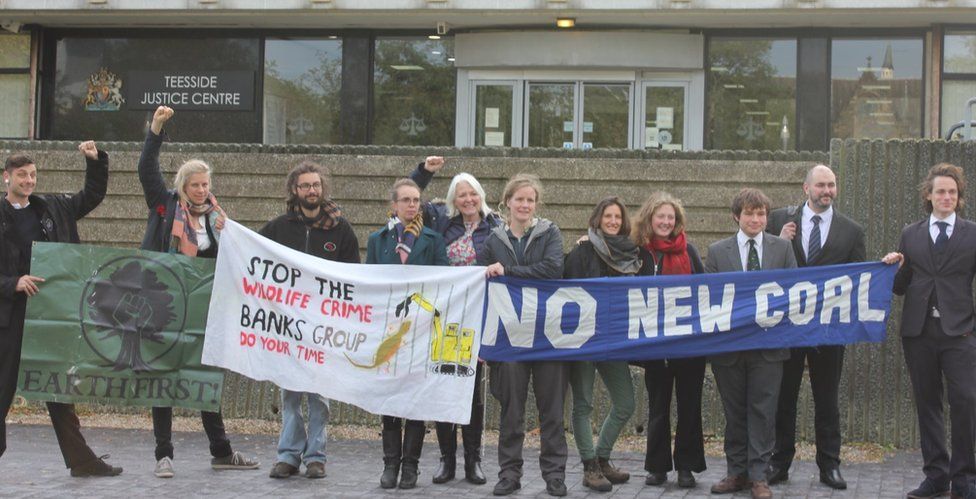 Eight protesters opposed to an open cast mine in County Durham have been fined.
The four women and four men were arrested at the Banks Group's Bradley site near Dipton following protests in May and June.
They claimed they were trying to prevent a wildlife crime on the site having found great crested newts.
At Teesside Magistrates' Court, six were found guilty of obstructing a highway and two of resisting police.
All eight, who are members of the Campaign to Protect Pont Valley, had denied the charges against them.
The six found guilty of obstructing a highway, namely the A692, were:
Thomas Roy Bradley, 37, of Audley Road, Newcastle, fined £1,225
Andrea Brock, 32, of Rose Hill Terrace, Brighton, fined £988
Robyn Clogg, 31, of Hedley Terrace, Dipton, fined £525
Thomas Davison, 29, of Douglas Terrace, Dipton, fined £180
Marta Gumkowska, 32, of Fenham Road, Newcastle, fined £180
Nathan Oliver Munro White, 38, of Dunholme Road, Fenham, Newcastle, fined £225
Timothy Cutler, 24, of Vineries Close, Sipson, West Drayton, was fined £180 and Indigo Rumbelow, 34, of Penclawdd Road, Penclawdd, Swansea, £675 for resisting a police officer.
All eight were also given restraining orders preventing them from entering the mine site for the next 12 months.
Banks Group wants to extract 500,000 tonnes of coal from the site at Pont Valley.
After the sentencing, Anne Harris of the Campaign to Protect Pont Valley said the group was "shocked by the severity of the sentences".
She said: "These actions were taken by people who care deeply about the local area and who felt that they had done everything within the law to stop the open cast."
She said the group will continue its opposition to the mine.
Mark Dowdall, environment and community director at The Banks Group, said it is in the UK's "national interest to invest in skilled local mining jobs" and the firm would continue to work the Bradley site "in the safest, most efficient and most environmentally responsible way possible".
Related Internet Links
The BBC is not responsible for the content of external sites.