South Shields police shooting: Man wanted to die in 'blaze of glory'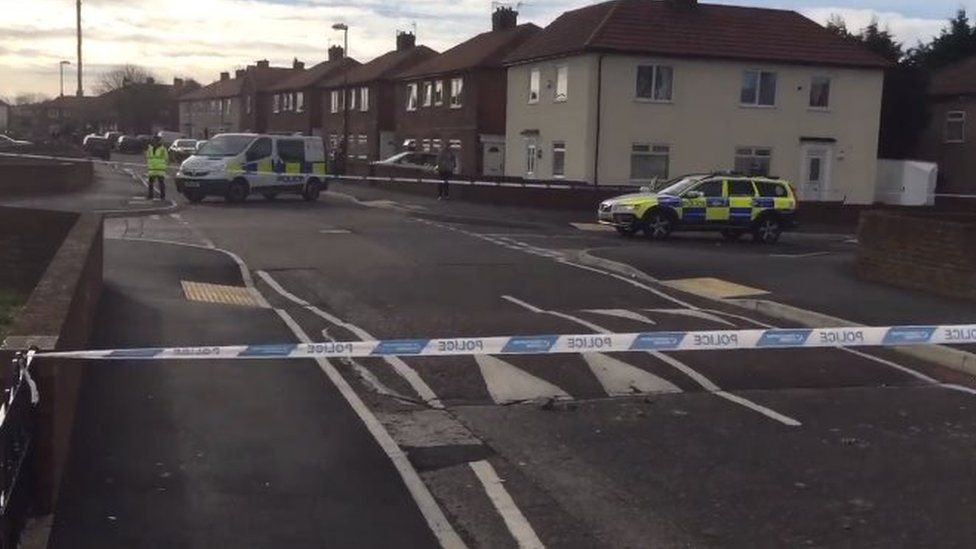 A man shot by police while holding an air pistol wanted to go out in a "blaze of glory" and be killed by a marksman, an inquest has heard.
James Wilson, 24, was hit by a plastic bullet and then a round from a police rifle after refusing to put down the weapon in South Shields in March 2016.
His father Carl told Newcastle coroner Karen Dilks he thought his son wanted to "use the police to commit suicide".
Mrs Dilks heard Mr Wilson and a friend had earlier shared 48 bottles of beer.
An air pistol was found outside the home of James Wilson's former partner in Frenchman's Way after the shooting on 29 March. Mr Wilson died in hospital three days later.
In a statement read out at the inquest, Carl Wilson said: "I think he wanted to go out in a blaze of glory. That's why he did it the way he did.
"I think he wanted the police to kill him and he used the police to commit suicide."
The inquest heard Northumbria Police received an anonymous call from someone in the early hours, naming James Wilson as having a black 9mm gun and that he was in Frenchman's Way.
A traffic officer sent in an unmarked car said he saw someone holding a black object.
A short time later there was a second call from the same number.
Mrs Dilks said: "The caller, among other threats, said he would not put the gun down, he didn't care if anyone got hurt and he was going to shoot the officers who attended."
A camera inside an armed response vehicle showed Mr Wilson pointing his weapon "several times" towards officers, the coroner said.
Kayleigh Reay, Mr Wilson's former partner, told the inquest they had split because of his self-harming.
She said she heard Mr Wilson laugh when he was shot the first time.
Mrs Dilks said the jury may consider whether Mr Wilson provoked the police "with a view to officers ending his life".
Related Internet Links
The BBC is not responsible for the content of external sites.