Actress Shirley Hellyar who fundraised for own funeral dies aged 40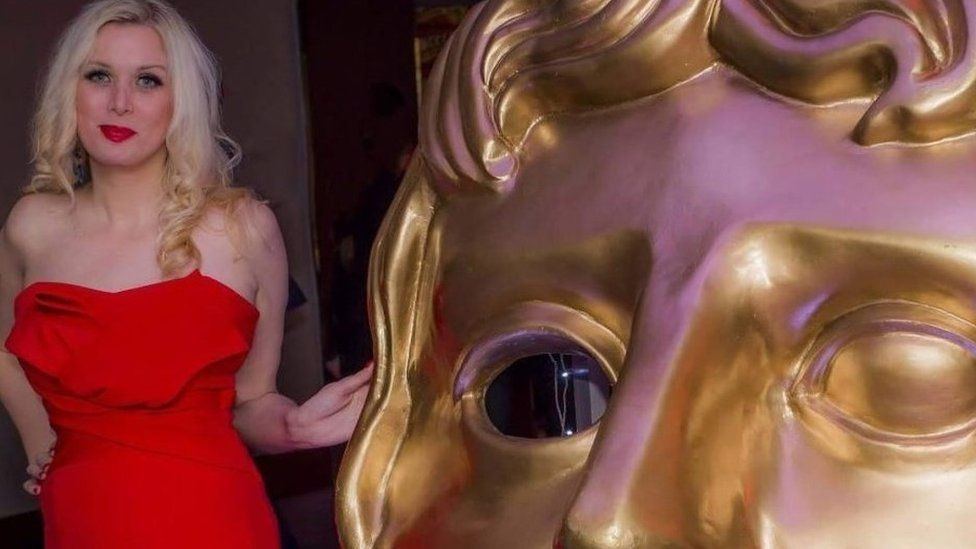 A terminally ill woman who raised nearly £7,000 for her own funeral after being given weeks to live has died.
Shirley Hellyar, 40, from Glasgow, thought she had beaten cancer and travelled to Newcastle to celebrate.
She suffered chest pains while visiting friends in October and was told she had less than five weeks to live.
The actress said her family had already lost her brother when he was 16 and added "no parents should have to have funerals for all their children".
She was recently cast as a villager in a Netflix production called Outlaw King, starring Hollywood actor Chris Pine, and had said she hoped to see it broadcast.
However, she died on Wednesday - two days before its general release.
A statement on her fundraising page said Miss Hellyar "unfortunately passed away in her sleep" at St Oswald's Hospice in Gosforth, Newcastle, surrounded by family and friends.
"Shirley was very grateful for everyone's help and donations which made her last few weeks so much better," the statement said.
"She said that all the help she had received restored her faith in human kindness. Thank you all once again."
Miss Hellyar was first diagnosed with lymphoblastic lymphoma after developing a tumour on her lung in 2017.
By September this year, she said the tumour had shrunk and she was well enough to travel to Newcastle where she had lived for years and used to work as a sexual health worker.
Just before her death Miss Hellyar said: "My parents have already had to lose a child - they lost my brother [in 1999], so they've had this sad story before.
"The idea that again they'd been left in this situation again just broke my heart. Nobody should be planning their own funeral and organising stuff but if I can take the pressure off and make it more bearable for my parents, I'll do that."
More than 300 people donated £6,956 to help her parents Elizabeth and Gordon pay for her funeral and help towards their travel costs from Scotland.
Many donors left messages of support, while some offered to provide services at the funeral or places for her family to stay in Newcastle.
One donor, Martin Robson, said he did not know Miss Hellyar but posted: "I heard your story on Radio Newcastle and was so shocked at your story and how sad it was for you.
"I sat there numb and in tears whilst hearing you talk of your cancer, well done for being so brave and I hope the money you raised will give you the beautiful, loving funeral you deserve."
Another donor Sharon Rae wrote: "A brave courageous lady. So very sorry to hear of her passing."
You may also be interested in:
Related Internet Links
The BBC is not responsible for the content of external sites.