World War One heroes to be honoured on North East beaches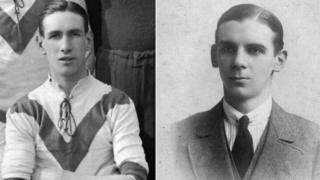 The two North East men who will be commemorated in an event by Danny Boyle to mark the centenary of the end of World War One have been revealed.
A large-scale portrait of a casualty from the war will be drawn into the sand at dozens of beaches in the UK.
Second Lt Hugh Carr's portrait will be seen at Roker beach, Sunderland, with Pte William Jonas honoured at Seahouses, Northumberland.
Pages of the Sea takes place on 11 November, Armistice Day.
Drawn in the sand at low tide, their images will be washed away as the tide comes in.
Second Lt Carr, from Houghton-Le-Spring, in the Household Cavalry 1st Life Guards before transferring to the Royal Engineers, 172 Tunnelling Company.
He was fatally wounded in the Ypres Salient, Belgium, in January 1916 when a German shell landed near his trench.
Pte Jonas was born in Blyth and was a professional footballer for Clapton (later Leyton) Orient in the years before the war.
When the professional game was suspended, he joined the 17th Battalion, Middlesex Regiment, known as the Football Battalion. He died in July 1916 during the Battle of the Somme.
The event is part of 14-18 NOW, the UK's official arts programme to mark the World War One centenary.