Newcastle residents could be told to recycle fewer items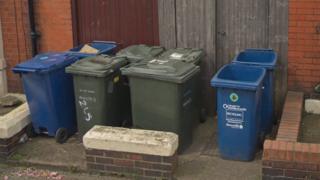 "Confused" residents could be told to recycle fewer items after costing council bosses £500,000 by putting the wrong kind of rubbish in their bins.
Newcastle City Council said it was considering limiting its efforts to a small number of items that are "very clearly able to be recycled".
The local authority must cover the cost of removing the wrong type of rubbish, such as nappies or food waste.
Contamination can also result in recycling being sent to landfill.
Nick Kemp, cabinet member for the environment, told a scrutiny panel meeting on Thursday: "It is quite a complicated area for something that should be very simple. We are looking at a revised strategy.
"We are looking at potentially identifying a smaller number of items that are very clearly able to be recycled.
"It may mean that more items that could be recycled actually go to landfill, but there would be less contamination."
In March it was revealed contamination issues cost the authority half a million pounds in 2017/18.
What can go in Newcastle's blue recycling bins?
Empty aerosol cans, flattened cartons and egg boxes, plastic bottles that have had their tops removed, flattened cardboard, paper and white and brown envelopes are all fine.
Food and drink cans that have been rinsed and squashed are also ok, as are foil, biscuit tins, rinsed glass bottles and jars, and batteries placed in a clear plastic bag.
Margarine tubs, yoghurt pots and fruit punnets cannot be recycled in Newcastle.
Contamination, such as when food waste leaks into paper, can mean recycling is rejected and also slows down the sorting process.
That leads to lower levels of recycling and increased waste treatment costs.
Councillor Marion Talbot said many councillors were "as confused as everyone else" over what could be recycled and called the situation "ridiculous".
The council is staging a consultation on its strategy for dealing with waste and is also running a pilot programme to crack down on contamination, the Local Democracy Reporting Service says.
More than 2,000 homes in Blakelaw, Fenham, and Wingrove are having their recycling bins monitored.
People who include incorrect items will have their bins tagged and given warning letters.