Ed Farmer inquest: Banning initiations 'practically impossible'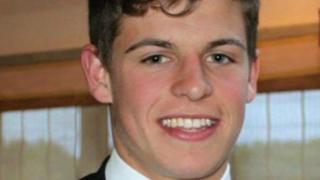 Initiation events were not tolerated at a university but it was "practically an impossible task" to eradicate them, an inquest has heard.
Newcastle University student Edward Farmer, 20, died after a cardiac arrest caused by excessive alcohol in 2016.
He had been on a night out organised by members of the Agricultural Society where heavy drinking was encouraged.
The university's academic registrar said students knew such events were banned, but went on them regardless.
Giving evidence, Lesley Braiden said that the society had a history of initiation events dating back 30 or 40 years.
She said that the university did not tolerate initiations and had worked with the students' union to ensure first years were aware.
'Disciplinary action'
This information was given at inductions to which attendance was voluntary - until after Mr Farmer's death, when it became compulsory.
The inquest heard previously that excess alcohol caused Mr Farmer, of Leicester, to have a cardiac arrest which led to brain damage and death.
Mrs Braiden told the hearing: "As we have heard this week, all of the students knew that initiation events were banned but they still did it, knowing it was not allowed and knowing there could be disciplinary action against them.
"It's extremely difficult for an organisation such as a university to know what is going on amongst a group of young adults.
"It is practically an impossible task for a university to prevent or eradicate that activity happening."
The inquest at Newcastle Civic Centre continues.