World War Two medals found in Tyneside skip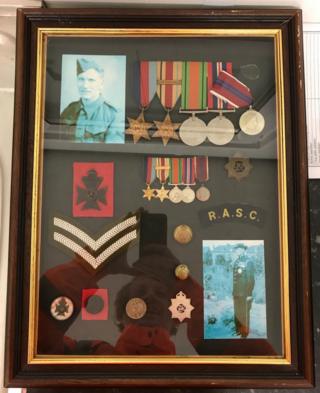 World War Two medals, photographs and badges have been found in a skip.
Christopher Low, who works for a Tyneside waste management company, was "shocked" to find the framed memorabilia thrown away.
He put an appeal to find the owner on Facebook and it has been shared thousands of times.
The photographs, medals and regimental badge and stripes collected in a picture frame appear to belong to Lance Corporal Arthur Glew.
Depot supervisor Mr Low said notes found with the frame showed L/Cpl Glew signed up to the Royal Army Service Corps in 1940 and was medically discharged in 1952.
"That man has fought for our freedom and the country we live in and how does someone repay him by throwing them in a skip," his post said.
NWH Group marketing manager Anna Devine said the company had had "so much interest" in the find and "commended Chris for doing the right thing".
It is believed the skip was sent to the NWH Group site in North Shields by a builder doing work in Hexham, Northumberland.
The company said it needed to liaise with its client to clarify how the frame came to be in there.
It separates commercial waste and recycling and it was during this process the frame was found.