Dolphins 'harassed' by jet skis and boats on River Tweed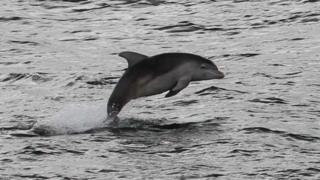 Jet skiers and boat users have harassed dolphins off the coast of Northumberland and could drive wildlife away from the area, marine police have warned.
Two incidents have been reported to Northumbria Police in recent weeks which saw people "deliberately speeding towards" the mammals near Berwick
The force described the behaviour as "irresponsible" and "concerning".
It has reminded people it is illegal to chase mammals in the wild.
PC Paul Cullen said: "While many people observe the dolphins in a sensible and considerate way, we're concerned that some boat users are deliberately speeding towards the school and harassing them.
"It is illegal to harass, feed, chase and touch marine mammals in the wild, so reports of this nature are taken very seriously.
"This type of behaviour will not be tolerated and spoils it for everyone else."
Last month a boat ran aground rescuing a woman who had become stranded after she tried to take pictures of dolphins in the area.
She had fallen from Berwick Pier and was spotted clinging to the pier wall.