Explicit file of women's photos being shared online 'very unusual'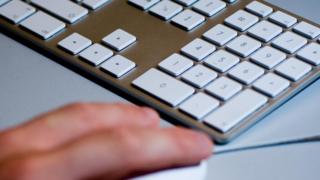 A "very unusual" file with explicit images of women, is being shared online, the BBC has learned.
One of the victims was alerted to the link published on various social media sites and which names the women, all of whom are from the Sunderland area.
She said she felt "degraded" at seeing topless photos of herself which she had never authorised to be shown in public.
Police said they were investigating a report of malicious communication involving explicit photographs.
The victim, who only gave her name as "Danielle", told BBC Newcastle, that she was informed by a friend about a website which had a "file full of 40 plus girls with various pictures, some of which were of a sexual nature".
She said: "The ones of me are, thankfully, just topless holiday pictures, but the unusual part is I didn't share them at the time and they're four years old, so I don't know how they appeared all of a sudden.
"It's degrading, I don't want topless photos of me out there - I've got two children, I run a business."
'Humiliated and upset'
The file had been shared on various social media platforms, including Twitter, although it was quickly taken down due to the nature of the content.
Referring to her fellow victims, she said: "Everybody is humiliated, really upset, some more than others, depending on the content of the pictures."
Phil Butler, an internet security expert and former police officer, said: "Unfortunately it's become a common occurrence where people, particularly men, are sharing explicit photographs of former girlfriends and ex-wives online with their mates.
"Even if you are in what you believe to be in a nice steady relationship you should be very careful about doing these things - you don't know how people are going to behave in the future."
However, this particular case, where a number of images had been collected into one file, was described as "very unusual".
He said: "It sounds like it's been very well planned and organised, and it may well be part of a larger thing where they are being collected all around the UK, so it may not just be Sunderland.
A spokesperson for Northumbria Police said: "We are investigating a report of malicious communication involving explicit photographs circulating online.
"Anybody who is a victim of this type of crime should come forward and report it."