Closure-threatened Bellingham Middle School wins government reprieve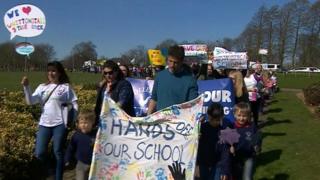 Plans to close a rural middle school in Northumberland have been rejected by a Government-appointed adjudicator.
Bellingham Middle School was set to close in 2019 after the local authority undertook a review of education in the county last year.
No reasons have yet been given for the adjudicator's decision.
Northumberland County Council said it was unable to comment in detail until the reasoning had been explained.
It initially announced plans to close or merge a number of schools in Hexham, Haltwhistle and Haydon Bridge, but dropped that proposal following an outcry from parents.
However, a revised scheme in which Bellingham First School would become a primary meant Bellingham Middle School was set to close in September 2019.
But those plans have been rejected by The Office of the Schools Adjudicator (OSA), the Local Democracy Service reported.
The school said in a statement on its website: "We have been informed that the OSA has rejected the decision to close Bellingham Middle School.
"We have been asked to let all parents and carers know about this decision ahead of the admissions deadline of October 31."
A council spokeswoman said the authority noted the adjudicator's decision.
She added: "We also note that it currently does not come with any additional information or rationale for this decision about Bellingham Middle School, so it is difficult to comment further at this stage."