Ed Farmer inquest: Students 'apple bobbed in urine'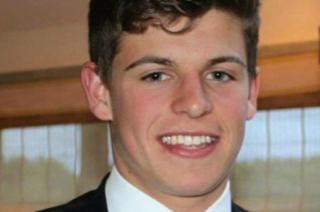 Students at an "initiation-style" event had their heads shaved and were made to apple bob in a mixture of urine and alcohol, an inquest has heard.
Newcastle University student Ed Farmer suffered a cardiac arrest and died in hospital in December 2016.
The 20-year-old from Leicester had been at an event organised by members of the Agricultural Society where students were encouraged to drink heavily.
One witness said some of those at the event had "felt anxious and nervous".
Guy Barker, a second-year student at the time of the incident, described how some first-year students had their head shaved at the event, were sprayed with paint used to mark stock, and bobbed for apples in a mixture of urine and alcohol.
He agreed it was possible such events placed pressure on students to drink high volumes of alcohol in a short period of time.
Mr Barker added that students were not forced to attend and could leave at any time.
He said that he understood initiation events were banned by the university because they were "dangerous and put a lot of pressure on people".
'Deny, deny, deny'
Another witness, Jonathan Hedley, told the inquest he sent a WhatsApp message to a group of fellow first-year students instructing them to refute knowledge of the bar crawl.
He said the message, which read "The three D's boys, deny, deny, deny," was sent as a "joke" before he became aware of the seriousness of the situation.
He told the hearing he believed Mr Farmer was being questioned by police because his iPhone tracker located him at a local station.
Mr Hedley said he knew the university had a "zero tolerance" approach to initiation-style events but added it was regarded by some as a "tradition" and "a thing you just had to do".
Asked about his understanding of the potential impact of binge drinking at the time of the incident, he said he had been "naive" and "never thought it would happen to someone you know".
The inquest at Newcastle Civic Centre continues.