Hexham hospital's urgent care unit reopens overnight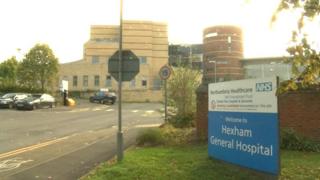 An urgent care unit has returned to 24-hour opening after closing to overnight patients "for an indefinite period".
Hexham General Hospital in Northumberland shut its centre from 22:00 to 08:00 BST in July due to "short-term staffing pressures".
Northumbria Healthcare NHS Foundation Trust said arrangements have been put in place to resume overnight opening.
However, patients are asked first to contact NHS 111, which would refer them to the most appropriate service.
This could be the urgent care centre, the GP, or, if serious and/or life-threatening, the emergency department at the Northumbria hospital.
Marion Dickson, from the trust, said: "All of our staff have worked extremely hard to find a safe and sustainable way of providing this service.
"The service is slightly different to how it was before but we are confident it will ensure the same high standard of care."
The unit also closed overnight for 11 months from November 2016, to allow staff to focus on "very high demand" during the day.