Scott Pritchard murder: How killer Tunmore confessed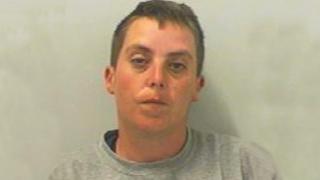 Late on a Tuesday night in July a woman walked into a police station and confessed to a brutal murder committed 14 years earlier. How had police missed her and why did she come forward?
Karen Tunmore's appearance at Middle Engine Lane police station in Wallsend, North Tyneside, was completely out of the blue. Police had never even talked to her about Scott Pritchard's death, let alone considered her a suspect.
On duty that night, Northumbria Police Det Ch Insp John Bent was contacted by the front desk.
"It's 11 o'clock at night and you get a call saying somebody's come in to confess to a murder that's 14 years ago," he said.
"Your initial thoughts are: 'really?'"
Scott Pritchard, 19, had been subjected to a "particularly savage attack" with a baseball bat, DCI Bent said.
On a chilly January evening in 2004 he was found with serious head injuries outside his home in Lindsay Close, Sunderland. He died on arrival at hospital.
He was on crutches after suffering a broken foot and also had on a cast. "You could describe him as being vulnerable."
A post-mortem examination revealed he had suffered repeated blows to the head. A lack of defensive injuries suggested he was taken by surprise.
The inquiry to find his killer was "extensive", but despite being periodically reviewed it got nowhere until Tunmore, now 36, decided to confess.
Police announced there had been a breakthrough, but little did anyone know this new information was Tunmore's own confession.
Detectives had to ask themselves whether she really had brutally beaten Scott Pritchard and, if so, why she had decided to hand herself in.
Officers were convinced by her story as she gave a vivid description of the murder scene, revealing information never made public.
DCI Bent added: "The chilling level of detail she told us gave us reason to believe she was responsible.
"She said she disposed of the bat that was used, washed the car mats and sold the car she used, which was blood-stained from the weapon.
"The interviewing officer said she was very upset and in the early stages she seemed contrite and genuinely remorseful for her actions.
"There's nothing that we've been able to unearth that says it wasn't her."
'Horrifying secret'
Tunmore was in trouble with the police before and after the killing and has convictions for disorder and drunkenness.
But she also had qualifications in football and trampolining and set up her own business as a football coach earlier this year.
Her reason for coming forward, the force said, was she could no longer live with the guilt of what she had done.
DCI Bent said: "Karen Tunmore had to live with her horrifying secret for 14 years and was finally overcome by guilt. She clearly could not live another day with the needless death of a teenager on her conscience."
When she was charged, she told detectives: "Tell his family I am sorry."
More than 1,600 statements were taken, 4,000 documents produced and about 300 police officers were involved in the case. So why was she missed by investigators?
Scott Pritchard owed money to a member of local gang, the Hendon Mad Dogs who, in turn, owed money to Tunmore.
Hendon is minutes from Scott Pritchard's house, but Tunmore lived 15 miles away in Killingworth, North Tyneside. Her only link was the gang member.
On 7 January, she and the gang member drove to Sunderland to get the money, taking a baseball bat for protection but with no intention of assaulting Mr Pritchard, she told police.
"When Scott appeared not to have money to pay to her associate, she says she saw red and she lashed out with the baseball bat," DCI Bent explained.
"It's perhaps not unsurprising that it was never detected because her link to Scott was so tenuous."
Tunmore would only tell police the gang member's name was Steve and that he had dark hair and a lateral scar on the left side of his head.
Father accused
A witness at the time had reported seeing two men just before the attack.
Police now believe this could have been Tunmore and "Steve".
"The way she was dressed and her appearance - she could have easily been mistaken as a male," DCI Bent said.
He still wants to talk to Steve, "but everything that Tunmore has said indicates that she was the one responsible for delivering those blows".
A year after Mr Pritchard's death, his father, Robert Stacey was accused of his murder, but after spending 16 weeks on remand the case was dropped when the Crown Prosecution Service (CPS) said there was no "realistic chance" of a conviction.
Mr Stacey had a heart attack just days before Tunmore was sentenced to life with a minimum term of 17 and half years.
In a victim personal statement read out at the sentencing of Tunmore at Newcastle Crown Court, Mr Stacey said people continued to shout abuse at him, even though he was cleared.
He said at times he had been scared to walk around Sunderland city centre "for fear of being accused of a crime I did not commit".
Mr Pritchard's mother Kathleen said: "Losing your son is hard enough, but not knowing the reason why made coming to terms with Scott's death so much more difficult.
"Every night for more than 10 years I went to sleep knowing his killer was out there, who was refusing to come forward and allow the family closure.
"Now, with his killer behind bars, we finally have some kind of justice for Scott and hope he can rest in peace knowing the person who did this is no longer walking the streets."