St Clare's Hospice in Jarrow to temporarily shut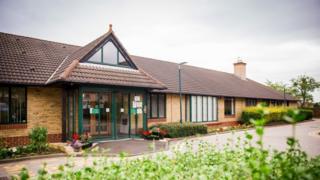 A hospice in South Tyneside is temporarily closing over concerns about its leadership.
St Clare's Hospice in Jarrow made the voluntary decision following an inspection by the Care Quality Commission (CQC).
Bosses said the move was unrelated to a three-week closure in July over a shortage of doctors.
Its seven patients will be transferred to neighbouring services or discharged home by Monday.
It is not known how long the facility will be shut. The hospice said it was working with South Tyneside Clinical Commissioning Group to develop a plan "to improve policies, procedures and protocol".
Chief executive officer, Avril Robinson, said: "We are taking the concerns raised by the CQC extremely seriously and we are fully committed to working towards improvements in our clinical quality assurance and other areas of work that underpin the delivery of our services."
The CQC said inspectors had visited the hospice on 12 September to check whether improvements had been made. It had raised concerns at a previous inspection in January.
The recent inspection found continuing concerns in several areas of the care being provided, including clinical leadership and governance.
The hospice - a charity which relies on specialist palliative care and end-of-life doctors - has annual running costs of just under £2.2m and needs to raise at least £1.8m in funds each year.
Anyone requiring specialist care and support should continue to be referred to St Clare's in the usual manner, a spokesman said.