Gateshead fair trade 'pioneer' Traidcraft faces closure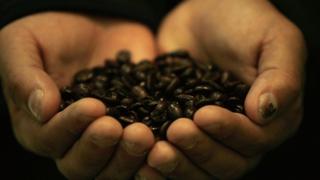 A firm which calls itself a "pioneer" of fair trade is consulting on closing its trading business.
Gateshead-based Traidcraft started in 1979 and sells goods sourced in developing countries.
Chief executive Robin Roth said a drop in the value of the pound and an "incredibly difficult retail background" were affecting Traidcraft's trading, which employs 68 people.
The company's charity arm Traidcraft Exchange will continue unaffected.
'Everybody suffering'
Mr Roth said while other companies could reduce what they paid to suppliers, Traidcraft continued to pay what it had promised.
He said that was part of the firm's ethics.
"We have a system of beliefs that we do not compromise and we take the consequences of that.
"There is an incredibly difficult retail background.
"Everybody is suffering and we are not immune to that," he said.
The firm's 30-day consultation is due to end in October and if closure is agreed, Traidcraft would cease trading in December.
Mr Roth said the impact on employees and suppliers would "pain me personally and pain us all".
But he said it would be "wrong to blame" the firm's ethics, adding: "We stand by what we do."
In statements on its website, Traidcraft said it had "pioneered" the notion of fair trade: "Almost everything we know today as fair trade began with Traidcraft."
It sells goods such as chocolate, coffee, tea, honey, rubber and palm oil, which it said was all sourced fairly.
Traidcraft works with more than 100 producers from 30 countries, with many of its products sold in UK churches and schools.
Mr Roth said an email address had been set up - lovetraidcraft@traidcraft.co.uk - for people to submit ideas and responses to the consultation.