Durham Cricket Club installs male sanitary bins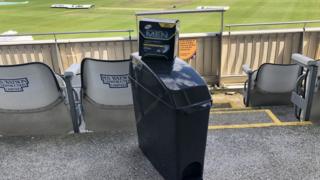 Durham County Cricket Club is to become the first sports venue in the UK to install sanitary bins for men.
Research suggests thousands of men over 40 avoid attending sporting events due to bladder weakness and fears about reaching a toilet in time.
Bins will be installed in male lavatories in the Riverside ground in time for the 2019 season.
The club said the move would address the stigma and social isolation caused by bladder weakness.
'Lack of awareness'
Chief executive Tim Bostock said: "We were amazed at the sheer volume of people who actually experience this condition and with many of our fans being in the age group affected, it was important to us that we were able to provide a discreet solution.
"We want to make sure men who experience this issue can feel comfortable enough to continue to come along and support their local team, without worrying about how they dispose of an incontinence product if they need to change throughout the day's events."
One of those welcoming the move was 71-year-old Bob White, who said: "I lead a prostate support group and I'm continually surprised by the lack of awareness around male incontinence, despite it being such a common issue.
"There is a clear need for more public places to provide male sanitary bins to help us live normal, active lives."