Planning row killer Albert Dryden dies year after release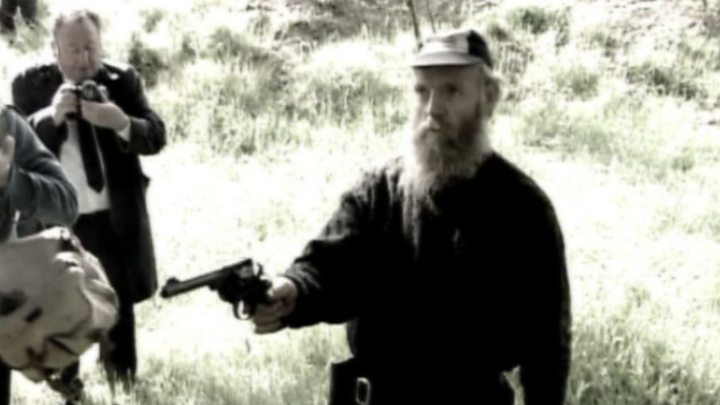 A man who shot dead a planning officer in view of TV cameras to protect an illegally built bungalow has died in a care home a year after being freed.
Albert Dryden gunned down Derwentside Council officer Harry Collinson in Butsfield, County Durham, in June 1991.
He was convicted of murder and the attempted murder of a solicitor.
Dryden was released from prison last year after suffering a stroke and died, aged 78, at the weekend.
He was also convicted of wounding a police officer and BBC journalist Tony Belmont.
Alex Watson, leader at the time of the since abolished Derwentside Council, was a lifelong friend of Dryden.
Now an independent Durham County Councillor, he said the case was "tragic" especially as Dryden and Mr Collinson also knew each other well.
He said: "I'd known Albert all my life - he was well known in the area and was very private.
"He loved the countryside like Harry Collinson did. They had interests that they shared and it went on for years.
"Albert would come in and have a cup of tea with Harry and they would talk about the situation.
"But Harry was quite adamant that what Albert was doing (building the bungalow without permission) was wrong."
Dryden opened fire on Mr Collinson and a solicitor, Michael Dunstan, as they led a council operation to demolish the bungalow he had built on a smallholding down a country lane.
'Good riddance'
When Mr Collinson, a 46-year-old divorced father of two, fell wounded into a ditch, Dryden hit him with two further shots.
Mr Collinson's older brother, Roy, has dismissed claims Dryden had recently shown remorse for the murder.
He said he had received four letters written by his brother's killer from his prison cell, but described them all as the "ravings of a madman".
"Not once did he show any remorse, culpability, or regret for what he had done," he said.
"He looked to blame everyone but himself. At one stage he even tried to blame the vehicles that were going to knock down his house, claiming they were not taxed or something ridiculous like that.
"I get so annoyed when people try to rewrite history, and look at things from a different angle. No excuses can be made for what Albert Dryden did."
When asked whether Dryden's death would bring any comfort to his family, Mr Collinson said: "It's over, but what he has done is going to impact generations of this family to come. Good riddance to the man."
Mr Watson, who had visited Dryden a few weeks before his death, said: "It was quite tragic - devastating for Harry's family because this was a killing that should never have happened.
"It should have been prevented - the media and the police were there.
"The police were well warned about the situation because Albert had this passion for collecting weapons."
You might also be interested in:
During Dryden's trial at Newcastle Crown Court in April 1992, the former steelworker claimed he was mentally unwell and not responsible for his actions - a claim that was rejected by the jury.
The Parole Board released him on "compassionate grounds" in 2017 after a stroke left him disabled and unable to speak.