Sunderland Northern Spire bridge becomes 'musical instrument'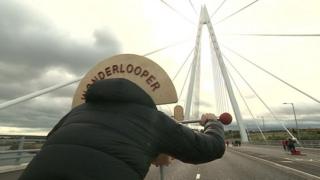 The north east of England's newest landmark has been closed to allow it to become a "musical instrument".
More than 1,000 people gathered at Sunderland's recently-opened £117m Northern Spire bridge across the River Wear for Sunday's one-off event.
Visitors were able to listen to sounds of the bridge and view it through specially designed seaside-style kaleidoscopes called Wonderloopers.
The bridge - the first in the city for 40 years - opened at the end of August.
Designed by artist Di Mainstone, who has worked on similar projects in the US and Scotland, the Wonderloopers were made from spare parts of the Northern Spire bridge.
Fourteen of the devices placed at different points along the bridge allowed users to listen to the wind passing through and over its metal cabling.
Ms Mainstone said: "We've been working with communities on both sides of the river and had the idea to use off-cuts from the pipes to create giant musical kaleidoscopes to look at the bridge and the environment differently.
"The idea for the name came about when I first moved to Sunderland and a friend of mine said 'enjoy yourself in wonderland'.
"We made the Wonderloopers to look like giant seaside kaleidoscopes.
"So when you pop your head inside you view the bridge through this kaleidoscope and hear the sounds of the bridge accompanied by some musical soundscapes and interviews with local people about their experiences of Sunderland."
Sunderland City Council leader Graeme Miller said: "The Wonderlooper event was a chance to celebrate the city's stunning new bridge once more.
"The devices sound fascinating and certainly gave people an opportunity to experience the bridge in a different way."
The bridge was closed for most of the day to allow the event to take place.