£1m win will help Newcastle couple's autistic children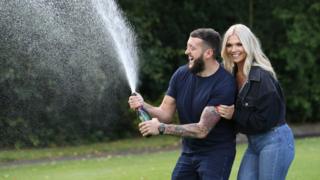 A Newcastle couple who scooped a £1m scratch card win have vowed to use the money to improve the lives of their two children who both have autism.
Darren Donaghey, 33, and wife Kate, 28, said they plan to spend the money on a larger house and build a sensory room.
The couple have a girl aged three and a boy of six, both of whom are "non-verbal", they said.
Mr Donaghey bought the £5 scratch card by chance when he was in a local shop buying a pint of milk.
The couple created headlines four years ago when Mr Donaghey won a "Punching above your Weight" competition by marrying his stunning bride.
More room
Mrs Donaghey said she initially did not believe her husband when he came storming into the house saying he had won £1m - particularly as her brother had previously pranked her about winning the lottery.
Mr Donaghey said he was considering giving up his job as a call centre supervisor to be able to spend more time with his family and help with the care of their children.
They also intend to support autism charities which have helped them with their children.
Mr Donaghey said: "We are currently in a two bedroom house and desperately need more room for the children.
"Now all of our dreams have come true with this win.
"We can move to a new home, which is bigger and with more bedrooms and even create a sensory room for our daughter and son."