Newcastle councillor admits library consultation error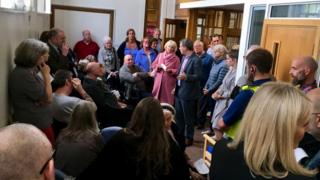 Councillors have admitted they "should have done more" to speak to concerned residents about plans to open a drug rehab centre in a library.
Angry residents confronted Newcastle City Council officials at a meeting about the Fenham Library scheme.
They said they were not told the new "health and wellbeing hub" would include addiction services.
Councillors said the centre "posed no risk" but accepted they could have consulted residents more.
'Lot of emotion'
Several residents said they would not take their children to a centre used by recovering addicts, though the council stressed it would not house clinical services, prescription distribution or a needle exchange.
Residents accused the council of "doing things by the back door".
One said: "The increased risk to the children and the community has not been thought through."
Kim McGuinness, the council's cabinet member for culture, sport and public health, said: "Where there is a lot of emotion in the community it is obvious more should have been done. We accept that."
She also said a second public meeting would be held on 20 September.
Pills and needles
A number of residents said they feared drug dealers would target recovering addicts using the centre, children could pick up pills and needles would be left nearby.
Councillor McGuinness has previously said there are "misconceptions about people who have experienced problems with drugs and alcohol" and the centre would be important to the community".
The council's director of public health Eugene Milne said without the centre "we will have more people taking drugs in the city and the problem will get worse".
He added: "Everyone here will be exposed to that."
The council said the new facility would support addicts and their families by providing access to private consultations, a gym and a café.
There would also be health and nutrition advice, space for family activities, counselling services, and stop smoking support.