Urinating Newcastle man faces council football pitch ban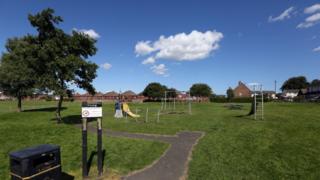 Amateur footballers who urinate on council-owned football pitches are being warned they could be banned from playing on them.
A player was seen peeing in "in full view, making it as obvious as possible" on the King George V field in Fenham, Newcastle, a local councillor said.
Marion Talbot said residents had told her it had happened before and they were "fed up with it, as you would be".
Newcastle City Council is investigating which team the man belonged to.
It has warned his team could be banned from local authority pitches, the Local Democracy Reporting Service said.
You may also like:
Ms Talbot added that urinating in a public place was "ridiculous and it is a criminal offence".
Northumbria Police said it was not aware of the incident.
To pee or not to pee... Is it legal to urinate in public?
Possibly - as long as you are not "disorderly" about it.
According to The College of Policing, you could fall foul of local byelaws if, for example, you relieve yourself in a shop doorway.
But displaying more "exhibitionist" tendencies might lead to a charge of disorderly behaviour under Section 5 of the 1986 Public Order Act.
It appears confining your activities to the back wheel of your car (men) and a policeman's helmet (pregnant women) makes no difference - though we would not advise you to test the latter.
However, all this only applies in England and Wales and circumstances can make a difference.
In 2012, the appeal court ruled a lay-by in Somerset did not need to be closed just because drivers regularly used it for "comfort breaks".
However, in 2009 a student was convicted and ordered to do community service after being caught urinating on a Sheffield war memorial.