Wine bar plan for Bigg Market toilets approved by council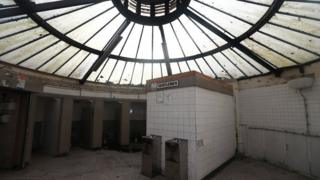 Plans to transform disused Victorian public toilets into a wine bar have been approved by a council.
The underground convenience in Newcastle's Bigg Market has been closed since 2012.
Newcastle City Council has granted planning permission for the bar, which has been described by developers as a "niche, high-end venue".
Applicant WC Newcastle Ltd is now free to press ahead with its plans to bring the site back into use.
It follows a decision last month by the local authority to issue an alcohol licence.
The council's planning office said it would "prevent further deterioration in the building fabric" and added the proposed use "would contribute to the vitality of the city".
One objection was lodged against the plans, with the Northumberland and Newcastle Society raising concerns over the number of other drinking venues in the area, a lack of disabled access and overcrowding.
The council has imposed a restriction stating no more than 50 people will be allowed in the bar.
In a statement shown to councillors in June, WC Newcastle said the size and character of the venue would make it "very unlikely" to add to the problems faced by police around the Bigg Market caused by drunken behaviour.
The firm said its intention was to create "an intimately designed and atmospherically lit subterranean bar, in keeping with the Victorian heritage, but fused with a modern outlook and feel".
The toilet block, which was built in 1898, has 18 urinals and five cubicles and is accessed by one entrance with a steep and winding staircase.
It has a metal-framed glass roof and tiled walls and floor.