Giant crane soars over Newcastle city skyline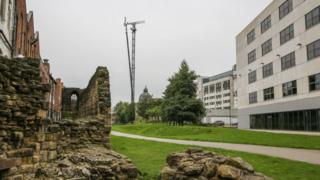 A crane so large it had to be transported on the backs of eight lorries and assembled by a further crane has arrived in Newcastle.
The 416ft (127m) structure, which can lift 450 tonnes, is being used on the construction of what will become the city's tallest building.
Hadrian's Tower on Rutherford Street will be 27 storeys high and house more than 150 private apartments.
The crane's arrival led to a number of road closures over the weekend.
The glass and aluminium building it is constructing is expected to be complete by May 2020.