Northumberland sheep farmers 'threaten lynx scheme'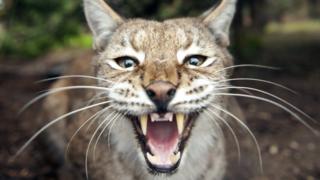 Lynx may be hunted by sheep farmers unhappy with a trial reintroduction of the wildcat, it has been warned.
Major landowners in Northumberland have agreed to release six cats into Kielder Forest, in a plan being considered by the government.
They prey on deer but some farmers believe they could attack livestock.
Northumberland Wildlife Trust chief executive Mike Pratt said if "worried about their animals then people can take things into their own hands".
"That's what ended up being the fate of the lynx - they were effectively hunted to extinction," he said.
He suggested the trial should not start until farmers accepted the plans.
But Lynx UK Trust chief scientific adviser Dr Paul O'Donoghue, said a "perceived threat to sheep" had come largely from "baseless National Sheep Association scaremongering".
The association said it disputed this.
Its chief executive Phil Stocker, said: "The influential arguments we have put forward against the release are based on experiences from farmers in other European countries."
Natural England and Environment Secretary Michael Gove are considering the trust's application for the five-year trial.
If successful it could lead to the reintroduction of the animal at other sites across the UK.
Supporters of the plan say the animals would help control over-populated deer numbers, reducing forest damage and improving habitat for smaller animals.
The benefit to tourism could be worth tens of millions of pounds, they claim.
The trust said lynx posed no threat to humans and a very limited threat to sheep.
It has arranged insurance for every sheep in the UK against lynx attacks.
Richard Bryant, who heads the specialist division of Lloyds of London providing it, said: "Having assessed all the science and research on lynx predation we're very confident that sheep attacks will be rare."