Stolen Lumley Castle key returned 40 years later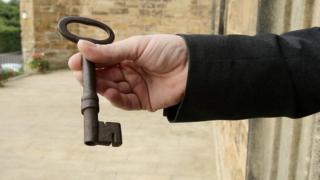 The key to a castle's banqueting hall has been returned 40 years after it was stolen by a drunken visitor.
The key disappeared from Lumley Castle in County Durham in the 1970s, but has arrived unexpectedly in the post with a letter of apology signed "John".
He explained he had taken the antique after an "intoxicating evening" and it had been on his bookcase ever since.
A spokesman for the hotel said they were now trying to track him down to thank him for finally sending it back.
The letter said that the large metal key had made four house moves with him, before his conscience caught up with him and he decided to send it back.
Ed Stephenson, the castle's operations director said: "We were very surprised, it's not something you expect after 40 years of being missing for it to turn up unexpectedly."
You may also like: