Wine bar plan for Bigg Market toilets backed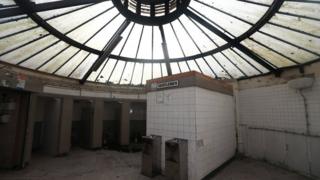 Plans to turn disused Victorian public toilets into a wine bar have been supported by licensing bosses.
The underground convenience in Newcastle's Bigg Market dates from 1898 and is something of a city centre landmark, but has been shut since 2012.
The city council's licensing committee has backed plans to turn it into an "upmarket drinking venue".
The project, by WC Newcastle, will now be subject to planning permission and a change-of-use application.
WC Newcastle said it wanted to "showcase the truly exceptional nature and history of this building".
Built in 1898, with a metal-framed glass roof, the facility boasts 18 urinals, five cubicles, and tiled walls and floor, and is accessed by one entrance and a steep and winding staircase.
Under the conditions of its licence, no more than 50 people would be allowed in the bar, with a minimum of 35 seats and waiter service available at all times.